Linda Waldon Interviews Kate Burridge, Art Marketing Director
Part Two: Kate Discusses the Role of Art Marketing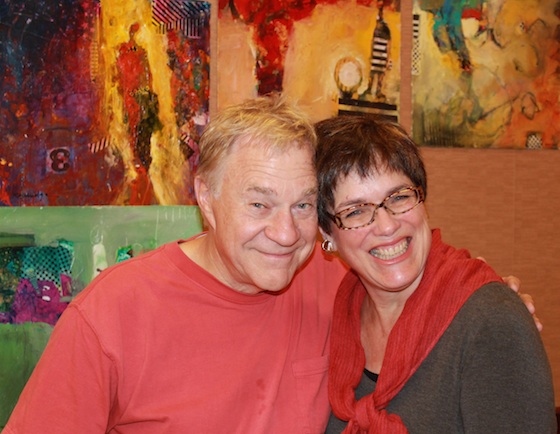 This is a continuation of my interview with art marketing director, Kate Burridge. You can see part one of the interview here. Kate is an author, lecturer and consultant to a long list of art associations and agencies, and teaches an eight-week course (which I attended) called "Art Marketing: The Business of Selling Your Art." Kate writes for Art Calendar, Fine Arts Magazine and the ISAP (International Society of Acrylic Painters) Newsletter, and offers her services as Artist Advisor.
In Part Two of the interview Kate gets into the critical role of art marketing—the tactical moves that put an artist on the path to getting his or her art seen. She talks about the tasks that need to get done, the difference between the roles of artist advisor and art marketer, and points out when you may want to hire one or the other.
You can reach Kate at:
Robert Burridge Studio

1451 Paseo Ladera Lane

Arroyo Grande, California 93420

805-489-9649

rburridge@robertburridge.com

www.robertburridge.com
Linda: Moving into art marketing, in more general terms, what are the three most important things an artist should have in place before they even think about marketing their art?
Kate: A body of work. That is the number one thing. If they don't have anything to market or talk about they can't just create it out of thin air, and say, "I want to market the idea of this because I think it's going to be wonderful and one of these days I'll do the work." You can't do that. You have to have the work.
Linda: We call that vaporware in high tech.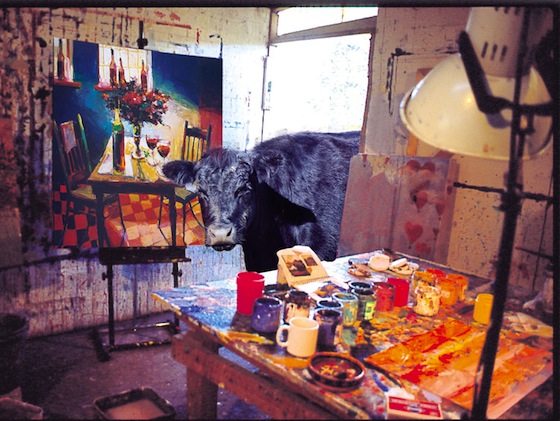 Kate: That's right. They have to communicate what is the thought behind the work. What is the concept, the theme, why did you do it? To me, it serves a certain purpose on quite a few levels. Number one, it solidifies a focus for the artist to say, "That is what this is about. This body of work is about how I feel about this. It's about my reaction to that. It's my homage to this." If it is solidified within the artist, they can talk about it.
Linda: And how important is that?
Kate: So important. Now if they have somebody else they're working with, like a gallery, it gives the gallery something to say. Without it, the work can be amazing, and some people will buy amazing work without having any knowledge about it, but a lot of people want to know about it too. They want to know the content, and that's not just the execution part of it—that it's on paper and that there's paint—coming from an educational background, but coming from a content background, a philosophical background.
Linda: And the emotional connection?
Kate: Yes, the fine art connection to it.
Linda: So, a body of work, and the theme, or the concept, or what generated that creative process. Is there anything else the artist should have in place?
Kate: Images. Pictures.
Linda: Yep, that's it. Very good. That's three very concise components. How important do you think having a website is?
Kate: Very, very important.
Linda: That's one of the checklists for artists now.
Kate: Yes, and there's no getting around it. They have to have a presence on the Internet that is attached to their name. As much as people hate the fact that technology rules us all, and Google knows everything about us, [laughter] it is reality. If people are looking for you, they're going to Google you. It gets me back to that model talent thing, where I can find you if you're on a ski slope somewhere! I'm going to find out where you are, and what you're doing, and where I can find your work. If I Google you and you're not there, how long am I going to remember to do that again? I'm not. I'm going to try once and then it's going to get left on a list somewhere.
Linda: I speak to many artists and I ask them for their web address, just because I'm curious whether they have a website, and because I would be interested in seeing their work. Many of them say, oh, I haven't updated my website in years. So how big a faux pas is that?
Kate: It's huge.
Linda: And we're talking about people who are interested in marketing their art. They're not just creating art for themselves. You have to keep that website current.
Kate: Yes, you do. And it's not just the website, it's all the social media, too.
Linda: I was going to ask you about social media. An artist who is not adept at social media—Facebook, LinkedIn, Twitter.
Kate: Have your children do it—particularly if your children are under twenty-five! Or, hire a high school student.
Linda: Very good.
Kate: Your grandchildren—they'll know how to do it. Sit down with them and tell them what you want.
Linda: Do you run into young artists that it's part of their portfolio?
Kate: Oh, absolutely! They'll whip out their smart phones and say "here's my work." It's so exciting. I don't do Twitter as often as I should—but anytime there's something big going on I tweet about it. For instance, I would tweet about this big upcoming show at the SLO Museum of Art.
Linda: When is that show?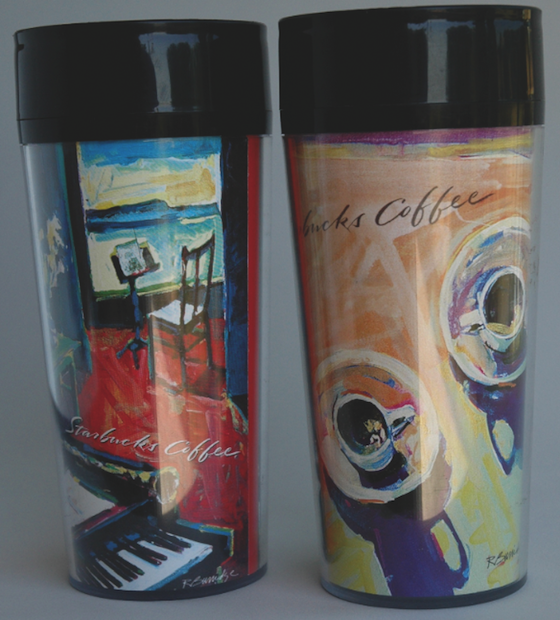 Kate: June 1st. [This interview was conducted in May.] It's coming right up. It's so exciting. The work is done. My job is to get the brochure done, the catalog, so right now I'm waiting for the stack of catalogs. We did two sets of limited edition prints, and some note cards. It's all in the hopper.
Linda: This is a great educational moment for artists. How far ahead of time did you prepare your marketing materials?
Kate: I have to say that the museum staff, Maura Johnston, was so instrumental in saying here is your timeline, and here is what you need to get done. Bob's drop-dead deadline, which he adhered to pretty well, was the end of April. That was strictly for photography.
Linda: So the art collection has to be finished a couple months in advance.
Kate: Oh yah. I know when Bob did a show for a San Francisco gallery, it was four months prior, because the gallery owner did a lot of magazine advertising and it was twelve years ago when things weren't as immediate. Now it's like, "Oh, you want this printed in note cards, we can get them tomorrow!"
Linda: What are the reasons you would advise an artist to seek out an art marketing agent or an art advisor? What is the point where you would say to an artist, "You need help", and why is it not advisable for artists to do their own marketing? What is your philosophy on that?
Kate: I see it from both sides. The reason to do your own marketing is who knows the work better than you do. Who can talk about the work better than you, really, especially if you've got your focus down, you know what you're doing.
If your goals are bigger and grander than what you can consistently keep up with, and realistically do, then it's time get help.
If your goal is to be in a museum or a gallery in a larger market space and you don't know how to do that, get help. The thing is, you don't have to hire a full time marketing agent, one that's in a big market—because you don't go to a small-market marketing agent to find out about a big market—so you'd have to go to that market and see who's there. You are going to pay them for one or two sessions. You're not going to sign over your firstborn and your entire life to them! You just want to pick their brain and find out—okay, this is my goal, help me see how I can get to this goal, and maybe they can map it out and give you some strategies.
The other question is when is it time to hire a full time art-marketing person to handle the career? I would say don't do that until you have a good track record—not until you're already in galleries and you're already successful.
Why does anybody do anything right now? It's to make money. If the marketing person thinks they're going to make money as a go-between, they'll work out a percentage with you—like every time you sell something they get 2% or 5% or whatever it happens to be. If they see that, "Oh, this could be good, I can help this person, and I can see where it's going to help me," it could be a very good and lucrative arrangement for both.
Linda: But you already want to have some momentum going as an artist?
Kate: Absolutely!
Linda: I see, okay, so the advisor would take you to the next level. And, the art marketing person is more that day-to-day business manager.
Kate: Oh yes, if you're hiring somebody to do your data entry and make sure that your press releases go out on time, and your inventory is under control, ship boxes for you, and stuff like that, that's a different job than an art advisor. That is like an office assistant.
What I'm saying is define the jobs. Give yourself three sheets of paper, and write down "Day to Day", "Career", and "Goal".
What Art Marketing Jobs Do I Need Help With?
Day to Day Functions
Career Oriented
Big Picture Goals
Filing and data entry
Packing and shipping
Art inventory control
Writing
Communicating with a web designer/webmaster
Talking to galleries
Reviewing art magazines
Reviewing art websites
Artist submissions
Submitting art grants
Managing big projects
Museum installations
Public installations
Speaking opportunities
Managing workshops
What kind of help do I, the artist, need day to day? Filing, writing letters, looking at prospectuses, inventory the art, writing thank you notes. Then you decide what, out of this, is something I should be doing, instead of being a weenie and giving it to everybody else to do? Or, is it better to hire somebody to do it for me?
The "Career" function is not filing and data entry, rather this would be talking to galleries, and looking at magazines, how can I put submissions in, real career-oriented stuff.
The "Goal" is the big projects. Talking about Bob, that's museum shows, OMNI speaker, another workshop in France, the big goals. That would be somebody who would have niche information.
Linda: And much more strategic it sounds like...
Kate: Exactly.
Linda: That makes a lot of sense, because I think people are confused about "whom do I seek out for help and for what," but this really breaks it down to the individual needs.
Kate: Yes, and it really has to be supportive. I have support systems—I'm not a technologically based person—I was trained to be an actress and I was a singer for god's sake! I can type letters and I can send pictures, and that's about the extent of my computer expertise. I have a webmaster, and he's wonderful.
Linda: And who writes your ArtsyFartsy Newsletter?
Kate: Bob and I write it and Bo [Bo von Hohenlohe, Santa Barbara artist and webmaster] puts it together. I'll give him credit right this second—Bo is an artist living in Santa Barbara. We were still living in Santa Barbara and Bo called us up one day and said I'm starting a virtual gallery, are you interested? I said I have no idea what you're talking about, and yes! It was called TransArt, a website with maybe twenty artists in it.
Linda: Does Bo still live in Santa Barbara?
| | | | |
| --- | --- | --- | --- |
| Kate: Yes, he's still doing his art. He got this web stuff going just to pay the bills, and for a while, it overshadowed his art, but now he's back doing it. We were in TransArt for about a year and a half, and then he said I think you're ready for a website. Eventually he worked us into a shopping cart for selling products, and he has his own server, so he has control over all his clients' websites and if there's any problem, or something isn't working properly, he's right there fixing it. | | | Sample Burridge Class Handouts: |
Linda: So, you talked about you have products for sale on your website, is this fine art or are these other things?
Kate: Some of it is art.
Linda: How does that process work?
Kate: We've done it in such a way that we're not ticking off the galleries. I've never published prices on our website. I also don't say SOLD across anything.
Now I'm going to talk out of the other side of my mouth though, too, because we have our website set up into different galleries, or categories, of the artwork, and it's all themed kind of art. Over on the product section of the website, I have the limited edition prints and those have prices on them of course, and then we have something called small original paintings—we refer to them as the SOPs. We used to call them 'Little Gems' then all the artists started using the term little gems, so we thought we needed a new title for them.
These are the 10x10s and the 6x9s. They're too small to go into galleries. We don't offer them for sale in galleries, but we offer them in workshops and on the Internet. In this section, the prices are published, and we indicate the pieces that are sold. They're updated every month or so.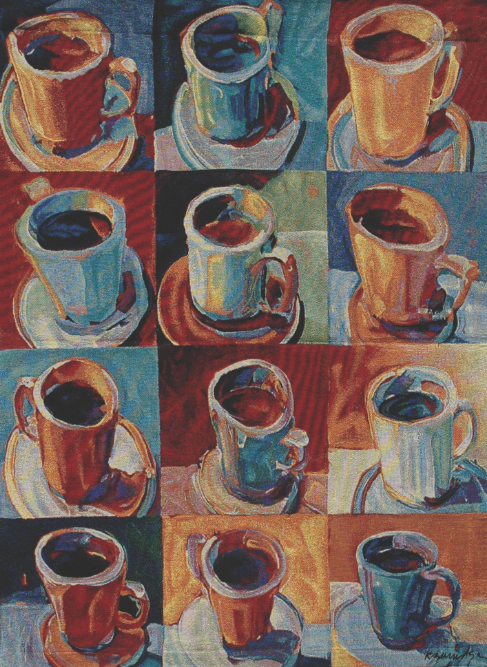 Linda: To clarify, on your website where the fine art is displayed, you don't post prices.
Kate: No, people have to ask for prices. I will tell them if something is available, and if it is sold, we offer to do commission work.
I'm speaking in generalities now. I think the galleries have calmed down a little bit because right when we started selling through galleries we already had a website. We had interest and we were selling Bob's work by ourselves. We were doing a lot of art festivals, and the galleries were very threatened by that. They would say "oh no, you can't have your own website"—and I would say "sorry but we're going to have our website, and you have to trust us that if somebody wants to see something we're going to direct them to your gallery." It has to be a trust situation anyway.
Watch for the concluding segment of Linda's interview in Outside the Lines on November 11.
---
Jason Kelly on Designing a Creative Life
Here's Guy Rathbun's Designing a Creative Life show featuring our interview with Jason Kelly.