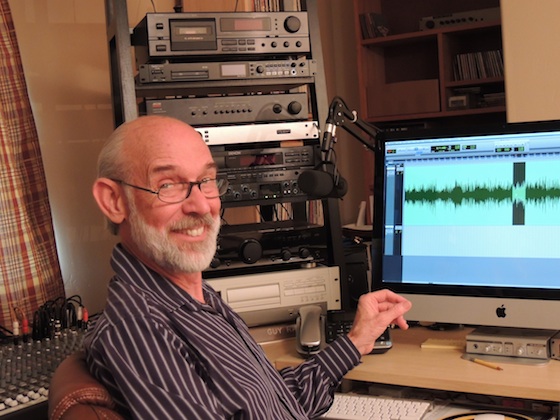 In our September 2 interview with Guy Rathbun, we talked about our new joint venture with Rathbun Audio Productions. This project is called Designing a Creative Life and yes, you are correct. That is the tag line on our banner at the top of all these notes and our web site. But now it's also the title for a new monthly radio production that we are collaborating to produce with Guy Rathbun.
Each month, Guy will produce a Designing a Creative Life program based on our most recent interview. These programs will be released about a week after our interview each month. The format is somewhat fluid, since the creative opportunities for each show will vary depending on the unique qualities of the creative life that we are exploring that month. But generally, the format is a discussion between Guy, our interviewee, and us about the highlights of the interview.
The first installment of Designing a Creative Life is available now. It is an interview we did with Guy last week, about what Windhook and Outside the Lines are all about, and how this new radio show fits into that. It's available free of charge on Guy's Public Radio Exchange site. It's a fun interview, so check it out! You can also find more information about this new project here.
We encourage you to download and freely share these programs as they are released each month. We also encourage you to leave comments on the PRX page and rate the programs using their five star system. The more (and higher) ratings the programs get, and the more conversation they generate on the page, the higher the likelihood that they will get picked up by more station managers to broadcast on the airwaves. Providing these programs with high ratings and comments is one way that you can really help us to get the word out about what we are doing. Station managers really pay attention to these ratings and comments as they select programming for their stations.
---
Interview with Kate Burridge, Art Marketing Director: The Beginning of the Kate and Robert Burridge Partnership
Conducted by Linda Waldon on May 23, 2012
I first met Kate Burridge and her artist husband, Robert Burridge, at their Art Marketing workshop at Hancock College in Fall 2006. I was taking steps to market my husband Robert Oblon's art and I had heard great things about the class. From the moment I sat down in room F10 and Kate passed out the course syllabus (the first goal of the class was "How to make a living as an artist") I knew I was in for a treat. I still refer to the thick binder of handouts from the class.
I found Kate to be warm, focused and encouraging, making sure we understood the tactical details of how to write an artist statement, resume, press release, etc. Bob was funny and entertaining, and brought an artist's point of view to the class. I remember thinking what a great team they made, as they danced through the curriculum like Fred Astaire and Ginger Rogers.
From theater actor and singer to fashion model, to becoming the director of a modeling agency, followed by an accomplished career as art marketing director and teacher, Kate Burridge has shown determination and marketing savvy wrapped in kindness and a fun-loving spirit. Kate is a career manager for visual arts professionals, and has over twenty years experience in international marketing, promotion, and professional presentations. She developed Art Marketing: The Business of Selling Your Art, an eight-week course (which I attended) that she co-teaches with husband, Robert Burridge at Allan Hancock College in Santa Maria, California. She also produces The Artsy Fartsy Newsletter and authors articles for Professional Artist (formerly Art Calendar) and Fine Art magazines, and the ISAP (International Society of Acrylic Painters) newsletter.
As we sat in Kate's sunny kitchen in Arroyo Grande decorated with her husband's and other artists' colorful artwork, Kate openly discusses her life's journey (far from over!), and her passion for helping artists reach for their dreams.
Today we present you with the first of three segments of this interview. Watch for the remaining segments on the second Sunday of October and the second Sunday of November.
You can reach Kate at:
Robert Burridge Studio

1451 Paseo Ladera Lane

Arroyo Grande, California 93420

805-489-9649

rburridge@robertburridge.com

www.robertburridge.com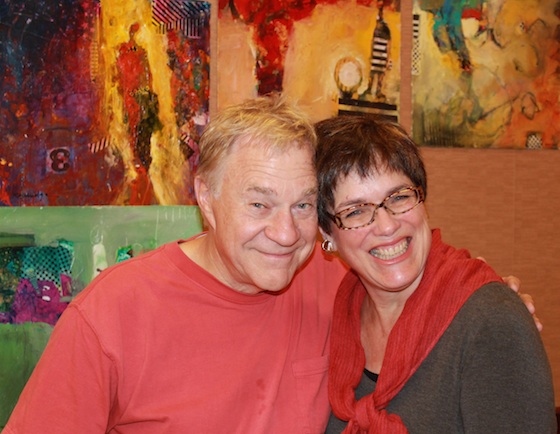 Linda: Where were you born?
Kate: I'm a native Californian—born in Visalia, which is in the middle of the San Joaquin Valley and part of Tulare County. My dad was born in Visalia, and my mother was born in a small town right outside of Visalia, called Woodlake. So my family is pretty entrenched in that area. I was eight when we moved to Santa Maria. That was a funny thing anyway. My dad was a highway patrolman and he liked to take us on driving vacations, which may seem really odd because he was in the car all the time. When it got REALLY hot in Visalia, we would take off for Pismo Beach! We'd go to Pismo Beach once a year because my parents didn't have a lot of money. We would stay at the Night's Rest Hotel—which was torn down five years ago—and I have pictures of us on the beach. You could still go clamming in those days. When it was time for my dad to be transferred, he had a choice of going to either Indio, near Palm Springs (too hot), or Eureka in Northern California, where it rains all the time. He chose neither. Finally, he got reassigned to Santa Maria in the early 60's because Vandenberg was starting to boom.
Linda: Where did you go to college?
Kate: I went to Hancock College, and got my AA in theater arts and optioned another year in music, and then I got accepted to University of California at Santa Barbara in musicology—I was going to study musicology, as I was singing at the time. However, the performance thing was a problem for me—if I was in a choir I was fine, but being on the stage by myself was a problem. Mostly it was the auditions. I had gone through Pacific Conservatory of the Performing Arts, and was getting my general education and my PCPA at the same time. I went through three acapella choir tours, including touring in Romania, in 1974. I was supposed to go down to Santa Barbara, but I didn't because I was burned out. So, I never went to UCSB but I did move to Santa Barbara. Got me out of Santa Maria!
Since I didn't have school lined up, I needed to get a job, so I got a retail job selling clothes. I really didn't like that at all. Then, I saw an advertisement about modeling—I had done some modeling in Santa Maria. There were classes I had to purchase, but the owner of the agency liked me a lot so she set me up with a job where I was selling clothes and modeling for them, and I could take classes. Eventually I started teaching the classes. I started working in the office. That was a really fun thing. It worked out great. I owe a lot to my former boss.
Linda: You and Bob seem like you're such a good team. You seem so well balanced—working and playing together—tell me how you two met.
Kate: At the modeling agency, I was now the director, and so I was running the school for Betty Hatch, the owner—at first, writing the curriculum and training the teachers. Then I started running the agency. There were about 300 models and talent, from fashion models, babies, actors and extras. I was working with a lot of the photographers who went to Brooks Institute, and, when they graduated they brought their clients back to Santa Barbara to do photo shoots because they knew how beautiful it was, and we hardly ever got any rain! So drought can be a very good thing for business.
We were shooting all the car ads, Target catalogs, Ban de Soleil ads, and lots of other great projects that came through. Bob owned a graphics-advertising agency with a staff of photographers. One of Bob's photographers, George, who also worked at my agency, put us both together. What we say now is that George just wanted a place to live!
One instance&mdash:we'd always close between Christmas and New Years—and Bob wanted to do this giant photo shoot and this was before cell phones, so I was tracking models down over the holidays. I tell people that half my job was being a detective. We didn't have computers or the Internet then! It was a great training ground. Now, whenever I'm trying to track down something for Bob, it's easy. That's how I met Bob.
Linda: So, that was back in the 80's. Bob was an artist, but at some point he decided to focus on his own art.
Kate: Oh, sure.
Linda: How did you become an art marketer?
Kate: That, too, is kind of a convoluted story.
Here's the backstory: When I met Bob, he would talk about how he painted on Saturday mornings and he went to school to learn how to be an industrial designer, and he also took painting classes and really enjoyed it. If his sofa needed a painting over it, he would do that, or friends wanted something, he would do that. Nothing on a commercial basis.
When we got together, it was at a time when everything was changing in the business world. I remember going to a special seminar around 1987 at the Ad Club where the speaker talked about how everything was changing in the type industry and how personal computers were going to revolutionize the graphics design industry. I came home from the seminar and said to Bob 'oh my god, you're not going to believe what they were talking about.' Bob had already seen the changes happening in his company, so Bob had a decision to make.
Linda: Desktop publishing was coming.
Kate: Exactly. A pencil and his brain was Bob's computer.
Linda: He saw the writing on the wall.
Kate: Yah. We really weren't even thinking about painting fulltime at the time, and he wanted to see if he still had talent, and what was going on with the market. So, he was going to an Adult Ed class in Santa Barbara, taught by an amazing teacher named Tony Askew. That got him into knowing who the players in Santa Barbara were and what the art scene was like. Tony was good at being proactive, creating exhibitions opportunities. They showed at the City College and things like that. That was pretty eye opening. I was so burned out at my job—you know, I had to be 'on' all the time—if I didn't have makeup on or high, spikey heels, I couldn't even go to Vons! It was that kind of high profile thing. We both wanted to change our lives. Bob and I were transitioning out of our jobs, so here we go, we could do anything we wanted!
Linda: Follow your dream….
Kate: We jumped off the cliff. We started over. Bob started painting with a vengeance. I thought, let's enter you in a real show. The first real show was for Danica House in Santa Barbara. They had a call for artists, and they were selecting five artists that they would intersperse throughout the vignettes on the floor.
Are you going to catch my hand gestures? [We laugh]
Linda: Too bad I don't have video!
Kate: They just wanted to have pictures submitted—this was way before digital—so I took some prints down there. It was on a solstice afternoon. We were both dressed up in solstice clothes—I remember he had these giant ears like an elf, and he was kind of pink! Here we go down to Danica House to turn in pictures. Bob was saying, "I can't do this! I'm not ready." I told Bob, "Yes you are, your work is wonderful." That's what I've been saying for the past twenty-two years. Your work is wonderful, yes, you're ready.
Linda: So is that part of your role? Your role is very supportive.
Kate: It is, but I also feel like I need to say, "Are you done with that yet? Are you still working on that?" Not that I'm controlling the situation, because I don't want that responsibility and my voice is not his voice.
Linda: Does he listen?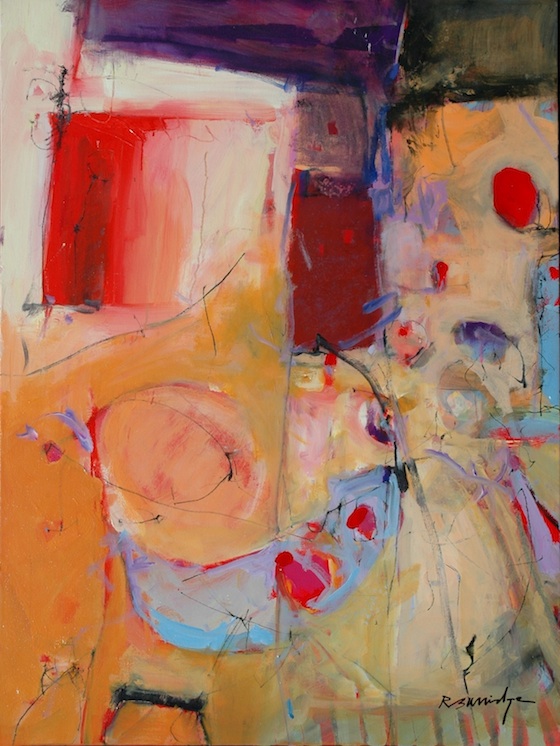 Kate: Sometimes. A couple years ago he did this beautiful show—it was very abstract. I walked down to his studio and said "That's wonderful, don't change it." I know as soon as I leave the room he's thinking about changing it, because I said that's wonderful, don't change it. I finally went back, and said "You may not change it. Don't change it." He finally, in my presence, put a piece of tape across it and wrote 'Kate will kill me if I change this.'
Linda: I definitely relate to that because my husband is the same, only he does NOT listen to me.
Kate: That's probably good.
Linda: And I understand that. I think I'm just expressing my opinion—I love it, don't change it. It's done as far as I'm concerned. But certainly he's the judge, and you talk about that in your class. When is your piece finished? That's always the creative struggle.
Kate: I have learned that if I really feel strongly about a piece, and it's totally on my personal level, I need to take it and say it's done, I want this, it's mine now.
Linda: Remove it from the studio.
Kate: Some of my favorite pieces I've gotten that way.
Linda: There you go.
Kate: Other ones, he'll keep working on them, and most of the time I'll agree. Yes, you're right, you really did need to work on it.
Linda: I'm sure after all these years you two have a synergy together.
You won't want to miss Part Two of this interview coming on October 14. Kate gets into the critical role of art marketing—the tactical moves that put an artist on the path to getting his or her art seen. She talks about the tasks that need to get done, the difference between the roles of artist advisor and art marketer, and points out when you may want to hire one or the other.