"Great interview! Great guy! Thanks for bringing Jason Kelly into the limelight. I enjoyed all the article and have passed it along to several friends. Well done!" —Lynn
Designing a Creative Life—A New Adventure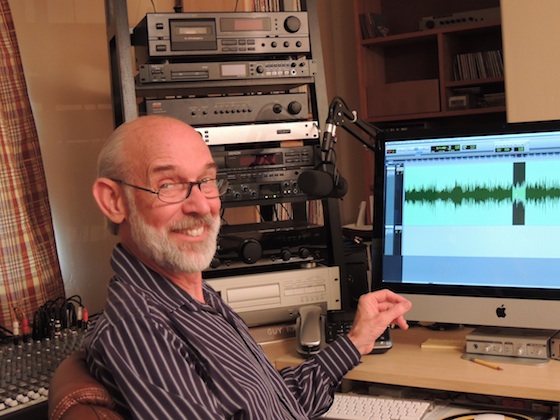 In the September interview, we talked about our new joint venture with Rathbun Audio Productions. This project is called Designing a Creative Life and yes, you are correct. That is the tag line on our banner at the top of all these notes and our web site. But now it's also the title for a new monthly radio production that we are colaborating to produce with Guy Rathbun.
Each month, Guy will produce a Designing a Creative Life program based on our most recent interview. These programs will be released about a week after our interview each month. The format is somewhat fluid, since the creative opportunities for each show will vary depending on the unique qualities of the creative life that we are exploring that month. But generally, the format is a discussion between Guy, our interviewee, and us about the highlights of the interview.
The first installment of Designing a Creative Life is available now. It is an interview we did with Guy last week, about what Windhook and Outside the Lines are all about, and how this new radio show fits into that. It's available free of charge on Guy's Public Radio Exchange site. It's a fun interview, so check it out! You can also find more information about this new project here.
We encourage you to download and freely share these programs as they are released each month. We also encourage you to leave comments on the PRX page and rate the programs using their five star system. The more (and higher) ratings the programs get, and the more conversation they generate on the page, the higher the likelihood that they will get picked up by more station managers to broadcast on the airwaves. Providing these programs with high ratings and comments is one way that you can really help us to get the word out about what we are doing. Station managers really pay attention to these ratings and comments as they select programming for their stations.
---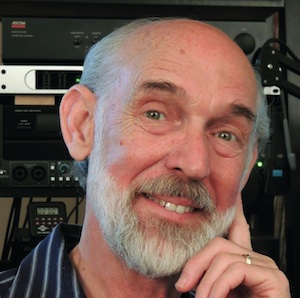 Our September interview was with Guy Rathbun. Guy is an independent radio producer and consummate interviewer. We turned the tables on him on September 2, and found out what makes him tick. Guy has a 40 year career in public broadcasting, and has recently made the move to go independent. Following is a brief excerpt from that interview in which Guy tells us how he first got the bug to be in radio. And there's lots more great stuff besides this in the full interview, like the story of how Guy found himself in the dugout with the 1962 Los Angeles Dodgers, getting a ball autographed by Maury Wills, Walter Alston, Norm and Larry Sherry, Leo Durocher, Sandy Koufax, Don Drysdale, PeeWee Reese, Johnny Podres, and all the rest of the team, and how a rogue signature from a visiting St. Louis Cardinal almost ruined his day and his baseball. And then there's the story of his boyhood days growing up at Edwards Air Force Base, watching Gus "Hotshot" Grissom blast across the desert at 100MPH in his 1959 red and white Ford Galaxy. All this and a whole lot more is packed into the full interview.
Michael: When did you get turned on to radio? Did you listen to a lot of radio?
Guy: I was an avid radio listener, and I was somewhat of a statistician. I couldn't just listen to radio. Whether I liked it or not, I had to write down names of composers, the name of the performer, the recording label. In the early days I wrote down the names of these obscure labels, and they sounded exotic. Oriole Records, and things like that. Then I got used to when certain stations would list their top ten. So I knew to tune in Thursday night for KFWB and Friday night for KRLA. I would tune in and I would write down the songs as they were played in the top 30 or top 40. Then I would predict which songs were going to make it to number one or be in the top ten. Below the list of 30 I would put down my favorites and why they were, and then I would follow them up the charts.
It caused a breakup with a girl once, because I said Stranger on the Shore was going to be number one, and she said, "It's going to be Shirelles, Soldier Boy. And I said, "No Way!" And darned if Stranger on the Shore didn't make it to number one. It was there for four weeks. What do you think number two was? Soldier Boy.
So when I was sixteen I had several years of this, and now I was introduced to jazz. So I had a pretty good background in music, and I was at a friend's house in Mina, Arkansas, where I was visiting family. The radio station, KENA had a contest going on. 
This friend of my cousins, whom I was now visiting—we became close friends, and I'm still in touch with him. Joe Gore. A wonderful fellow. But he got me into trouble. We were building a soapbox car for a race he wanted to run. We were hammering away, putting this thing together, and the radio was on KENA, and the announcer came on and said, "It's 'Name That Tune!' Be the guest disk jockey at KENA!" They came on with a song, and I said the name of the song, the artist performing the song, and the year it came out. Joe said, "Well call and tell them!" I said, "no, no!" and Joe kept pressing. Then the announcer came on and said, "It's not been answered yet, and we just need the name of the song and when it came out." Joe asked me, "Well, what's the name of this thing?" So I told him the information. Well, he went to the phone and dialed. He tried to hand me the phone. He ended up answering the question under my name. So I reluctantly went to the radio station, where I was the guest disk jockey in the middle of the day.
Michael: Wow!
Guy: Yeah, it's not bad for a sixteen year old kid. Kind of fun. But interestingly it wasn't being the guest disk jockey spinning disks of my choice that really grabbed me. It was the fellow sitting on the other side of the glass, with a pencil behind his ear, and every once in a while he would pull out the pencil and write things down, and he would be on the phone, and this was ongoing, and he would record a couple of things, and I couldn't hear him. And then at the top of the hour, I was told that at the point when this commercial was over, I have to point to him. So I did. And there he was with this beautiful mellifluous delivery, and I knew. That's what I wanted to do! So that was my introduction.
And that's what I pursued. I became a reporter many years ago.
---
Not Subscribed Yet?
For just $4.98 per month you can get all our interviews and articles delivered to your email box bright and early every Sunday morning. Our subscribers love to settle in with their Sunday morning coffee and their copy of Outside the Lines.
Don't miss another issue.
Subscribe here today!