Excerpts from November 2011
Here's a peek into the November installments. We keep the full archive of everything we publish in the Member Resources folder for our subscribers.
The Windhook Interview—Kenny Endo
From the November 6 edition.
This month's interview was with world class taiko drummer and jazz improvisationalist Kenny Endo from Honolulu, Hawai'i. We join the interview in progress here.
...Michael: You were in Japan for 10 years?
Kenny: Yes, 1980 to 1990.
Michael: I think I read somewhere that you originally planned to be there for one year.
Kenny: Yeah, I was kind of open. I was probably gonna stay one or two years. But the more you study, the more you realize how little you know. I gave a workshop to the Taiko group at the local Buddhist temple here last night, and I told them the longer you've been playing, the more you need to practice. I told them, "I need to practice more than all of you, because there's more things I've learned, there's more things I need to keep up with." And also, when you talk about people entering into a creative life after they've had a career, my philosophy is that it's never too late. And it's never too early. But you just have to put in the time and the effort.
Michael: I'm intrigued with the improvisational aspect of what you do, and the collaboration with various other types of musicians...
Peggy: We saw the Youtube video of your performance with Abhijit Banerjee at the Sacred Music Festival in LA.
Michael: That was quite remarkable. Actually, there are a lot of remarkable videos out there of your work—but anyway, it seems to me like both jazz and the classical exposure in Japan have...
Kenny: Oh yeah! and actually all the people performing—tomorrow nights performance is like two groups coming together. So the On Ensemble is a group of—well, they're in their 30s, doing real creative work, all have spent time in Japan. Two of them studied for a long time with me in Japan, and I'm real proud of what they're doing. And then my ensemble, which is also younger people—the flute player, Kaoru Watanabe used to play with this group called Kodo, and he's a really amazing flute player, went to Manhattan School of Music, and actually knows jazz and can improvise. The one playing vibraphones now, Eien Hunter-Ishikawa, was actually born in Japan, grew up in Kawai and Michigan, and has a real interest in Taiko and drums, and now he's living in Vancouver, and I flew him down for this. And the violinist, Charlene Huang—this is the first time I've worked with her. We had met before, and I asked her to do this performance.
Subscriber link to the full November 6 edition
The Protestant and the Chaos Magician
From the November 13 edition.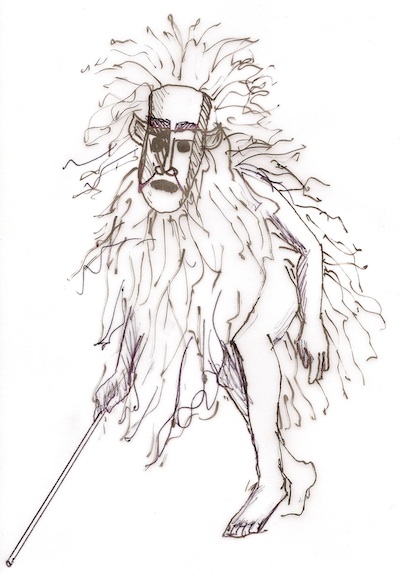 Last month we talked a bit about the work. To do the work, you must define a set of rules and stick to them—a work ethic, if you will. No matter how unstructured and free spirited you are, there's a set of rules you work by. Yes, even you. You have rules about your routine, your self discipline, your priorities. You might not think of them as rules. You might even insist definantly that you have no rules. OK, then "No Rules" would be your rule number one.
The rules you operate under are a direct reflection of your personality, priorities, and mindset as an artist. If you see art as your "day job" your rules might be pretty structured and you might treat art as work. You go to the studio at a fixed time every day and stay for a full work day, no matter what. You keep a calendar and a mental timeclock, and you work, regardless of inspiration, in the faith that if you do the work, the art will come. This is an extremely common and well-proven strategy, and it's practitioners tend to throw themselves into it with the zeal of a protestant. In fact we could call this the protestant work ethic of creativity.
Subscriber link to the full November 13 edition
Being Seen—Photographing Your Work
From the November 20 edition.
Writing this article, I googled "photographing artwork" and got a quarter of a million hits. At first I thought to myself, "Why write this article? The information is all out there at the ready. People can just look it up." But then I thought again.

I was recently part of a committee that put on a California state-wide sculpture show. The first comment we got back from the juror after the submission photographs were all handed over to him was that many of the images were quite poor. The show went well and had a high caliber of artwork, but the photography was a problem and ultimately affected what work made it into the show.
The reality is that the existence of countless good websites about how to photograph art did not stop a hundred or so of our 153 entrants from sending in poor quality images of their work. It seems intuitive that a piece of art cannot look better to a juror, gallery owner, or consultant than the photographs that you submit to them.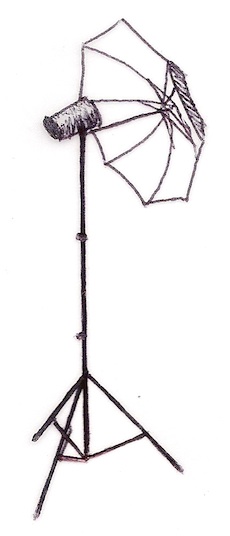 It doesn't help matters that many artists are not photographers, and have very tight budgets for such things. Unless your art is photography, or you have a serious hobby as a photographer, it's worthwhile to try to find a way to get your work photographed professionally. Pay for it, barter art for it, impose on your professional photographer cousin, but do not send badly lit, poorly composed photographs of art set against a distracting background or a wrinkled bedsheet and expect positive results. Your photography represents your work. It says something very important about you. Pay careful attention to that message and be brutal with yourself about the importance of it.
This is not to say that you cannot photograph your own work...