This month in Outside the lines
Here you'll find some snack sized samples of what we wrote in February 2012.
Peggy's Progress
(Not to be confused with John Bunyan's tale of agony and doom!)

Fortunately things seem to be picking up in the architectural firm where I work, so I've been working long hours the last couple of months. We're all keeping our fingers crossed that this is a trend and not just a flash in the pan. The cash flow is better and more regular than over the past few years when the architecture and construction industry tanked along with so many others. So these days I'm less stressed about paying bills and having food and gas money, and my daughter isn't a totally starving student in LA. The job is fun, I get to do a million different things every week, and I use my brain and my creativity, so I really can't complain. But I don't have much energy at the end of the day and I just want to eat dinner, watch a movie and go to sleep so I can turn around the next day and go back to work again. How inspiring is that?
So I thought it might be time to go back and read the interviews we've published over the last few months for a little pick me up—a refresher course in living the life, being inspired, and keeping on the creative path. No doubt some of you feel overwhelmed by everyday life now and then too. So here's a little cheat sheet of things to remember for those times when the energy is low and the gas tank of inspiration is running on empty.
For those of you who've been following all along, you know I tend to make lots of movie references. And so today I borrow from one of my favorite movies, High Fidelity, the ultimate movie of All Time Top Five Lists, and from one of my All Time Top Five Favorite actors, John Cusack. So now I present to you my All Time Top Five favorite things I've learned from our interviews that inspire me.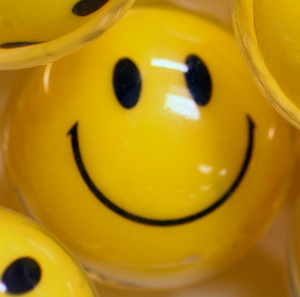 1. Art Makes You Happy:
Contrary to images of tortured artists who suffer for their art, all the folks we've interviewed seem to me to be really happy people. They are content but not complacent, and outwardly at least fulfilled and vibrant people. No doubt it's because they're doing what they love doing and they can't imagine doing anything else. Most of them said their interest went back to childhood.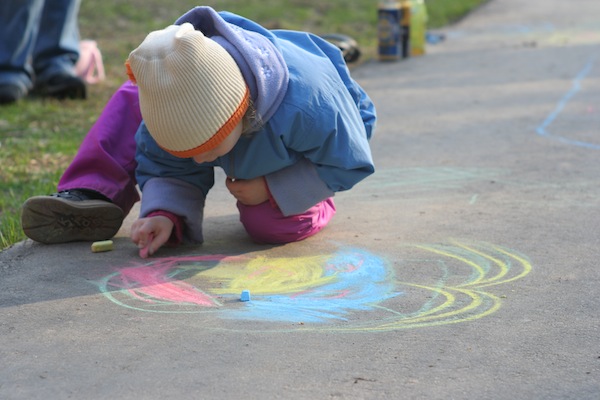 Despite the fact that no one in their family were artists, Larry, Randy and Amy all said they drew as kids. As a little boy Kenny ran to follow the bands in the parade to not simply listen to but to feel the sound of the drums. Their passion was there from the very beginning and has never gone away. It's very deep down inside their core and their souls and rather than stuff it or ignore it they followed it. Some took the path from a young age while others deferred it 'til it fit more practically into their lives. But none of these happy folks ultimately abandoned it.
All of them expressed some variation of the theme that they really can't imagine any other way to live and they really wouldn't want it any other way. They've made choices and made sacrifices so they could do it. But all are very satisfied with the outcome. As Peg Grady said, "The creative life is just such a good way of spending our time on earth—I don't know how people who don't do it get by." How much more reassurance do you need to know that following your path is the way to go?
2. Appreciation - Not Taking it for Granted:
Beyond making the leap to follow the creative life, of equal importance is the fact that they don't take any of it for granted. They have a great appreciation that they're able to do it. Some may have referred to it as luck that they can live as artists, musicians, whatever, but they've worked hard to make that happen. They work hard but not a one considers it tedious or a drag. No one except themselves is telling them to do it. They've made choices, some that worked and some that didn't but the choices were theirs.
---
The excerpt above was part of our Outside the lines member's note from Sunday morning, February 26. To get all the content we send to our members:

subscribe here
---
Sales Versus Exposure
The following article appeared in our February 19 installment.
In our February interview, we talked to Larry LeBrane about the relative value of a quick sale as compared to exposure.
Larry: I'll give you a story. I did a pair of shoes, glass flip flops when I was doing flip flops. I finished them on a Friday and I was showing them on a Sunday at Dinosaur Caves. The show goes from 10:00 to 4:00 and this woman walks up and says, "I love those shoes, I want to buy them." This was at 10:15. I had just opened. I said, "ok, I'll sell them to you but I can't give them to you until 4:00. I just finished them and nobody's seen them. I want people to see them...She said ok, she gave me a check and said she'd be back at 4:00. So meanwhile, halfway through the day, another guy comes along and he says "I want those shoes." I said I had sold them but I can make another pair. They won't be just like that pair. I said, "they'll be crazy like that. You tell me what colors you want, and I'll make another pair." So he said ok. Meanwhile I'd been talking to Ronda about it and Ronda pipes up, "He's thinking of making high heels next!" He said, "oh, tell me about it." He asked what I was going to use for the base. I said I had this diamond plate aluminum that looks pretty cool. He said, "Oh great, I'm lining my garage in that stuff!" He has a house in Shell Beach. He's in the oil industry in Bakersfield. He's got a house in Tahoe, he's got a plane, he calls the pilot to fly him to SLO, so he can smoke his cigar and drink wine. I never would have had this conversation if I had let the woman take her flip flops at 10:15.

Anyway, I finished the shoes for him and started working on the high heels, so we go to his house to show him the high heels I'm working on. His house is right on Ocean Avenue on the cliff of Shell Beach. The cliff is right across the street. So we go in the house and there's the pair of shoes, sitting on the floor like a doorstop. But it's white tile, white carpet leading to the living room and the shoes are there and it tells you "take off your shoes" without saying a word. It's a hint. That's where the shoes go, take them off. That was so cool. At first I thought, why's it sitting on the floor but then I got it.

Peggy: He just walked by at the right time at Dinosaur Caves.

Michael: So if you had sold her the shoes let her take them home none of that would have happened.

Larry: Yes. I finished the stilettos and I said, I want people to see them, no one else has seen them so I want to borrow these for awhile and enter them in shows and stuff because that was more important.

Michael: So you just never know when it's going to lead to something.

Larry: Exactly. You know the exposure is worth more than a quick sale. So just like with these shoes, I had the stilettos for a year, showed them around, and at the end of the year he bought them. Which was fine. if he hadn't, it would have been fine. I had the exposure, I became the shoe guy.
Larry makes and illustrates a very important point for artists. As much as we cherish the thought of selling our work, it's really important to keep the bigger picture clearly in mind. If your work is well established, and there are numerous examples of it out in the public view, and if you are not introducing new directions and innovations, then perhaps the quick sale should be at the top of your priorities. (And right below that priority should come the question: "Why am I not innovating." But stagnation is not the topic for this article. We will address that another day.)
If on the other hand, you are innovating, and introducing new concepts, media, or techniques into your work, then it behooves you to show the new work in the brightest light possible. Sometimes this means, as in Larry's case, that you forestall the quick sale, or at least the quick delivery of the new work so that you can maximize its exposure.
In Larry's case, the glass flip-flops were delivered at the end of the day, and the exposure afforded by that brief delay was enough to get him another sale of flip-flops and to launch him headlong into his now famous stilettos, a fresh new idea that he had only been thinking about up to that point. And then, when he made the first set of stilettos on consignment, he arranged to keep them to show for a year before delivery. As a result, in his own words, "I became the shoe guy."
Building expectations and anticipation with your public is very imnportant for the advancement of your art and your career as an artist. People rarely are smitten to the point of opening their wallets and their hearts to an idea the first time they encounter it. This happens now and then, but in general, people need to warm to an idea with repeated positive exposure. In the marketing world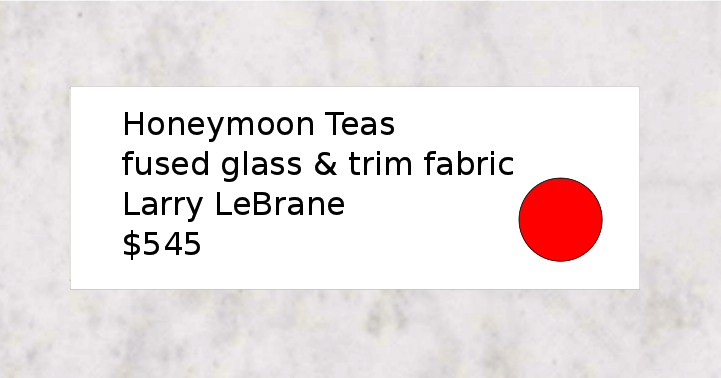 there is an old saw that the public generally does not respond to a new idea until that idea has touched them seven times. If you have a hot new idea, one that sells easily, and you sell it and let it go before you have a chance to show it, you are missing an opportunity to launch that idea to a higher level. Add to this the fact that when someone is impressed by your work, and then notices that it has that coveted red dot sold sticker on its gallery label, that further reinforces the impression of value for the work.
Of course we are not suggesting that you turn down sales. That would be crazy. What we are suggesting is that whenever possible, you ensure that your work has ample exposure, and that you are prepared to follow it with more in the same vein, before you let it slip into the cloistered environs of a private setting. Negotiate with the buyer for a later delivery date, or for them to allow you to show the work in future shows, identifying it as "from the private collection of..."
This technique of borrowing work back from your buyers to show can be beneficial to you, your buyer, and the viewing public. It allows you to show the work without risking the loss of a sale. It also telegraphs to your viewing public that your work sells. And it gives your buyer an ego boost. When their name is on the tag in place of a price, it telegraphs the message to all viewers, "Yes, I own that piece. I'm an art collector, and it is through my generosity that you get to see this piece." And finally, showing art that has sold already allows your viewing public the chance to see work that would otherwise be hidden away in a private residence, exposing them to what you are doing, and creating the anticipation of more to come.
---
The article above was part of our Outside the lines member's note from Sunday morning, February 19. We also had articles about making your mark in the very crowded world of internet marketing, and about a new book we think will turn out to be a classic in the artist's library. To get all the content we send to our members:

subscribe here
---
A Brief followup to the Rejected! Article
The following article appeared in our February 12 installment.
At the end of January we posted an article about the agonizing experience of being overlooked by the jurors when you submit work to a show. Since we wrote that article, we have fresh anechdotal evidence of just how subjective the jurying process can be, and why it's important to take the entire process with a grain of salt and keep your chin up.
I (Michael) submitted two pieces to the Phantom Project Inaugural Exhibit. One was accepted, the other was not. I shrugged off the rejection and immediately submitted the rejected piece to another juried show the next week. To my surprise and delight, the once-rejected piece won first place in the sculpture category of the second show. Had it been accepted into the first show, I would not have won any awards, and would not have had the exposure of the second show. The second piece was no better or worse when it won the award in the second show than it was when it was passed over for the first show. It was simply a different juror and a different context. This is precisely the point we made in the article on January 29! We could not have asked for a clearer illustration of the principle.
---
The short article above was part of our Outside the lines member's note from Sunday morning, February 12. We also had articles about finding your voice as an artist, and about the current status of the Phantom Project, and how that project illustrates a very important concept that all artists can apply to promoting our work. To get all the content we send to our members:

subscribe here
---
A peek into the February 5 interview with Larry LeBrane.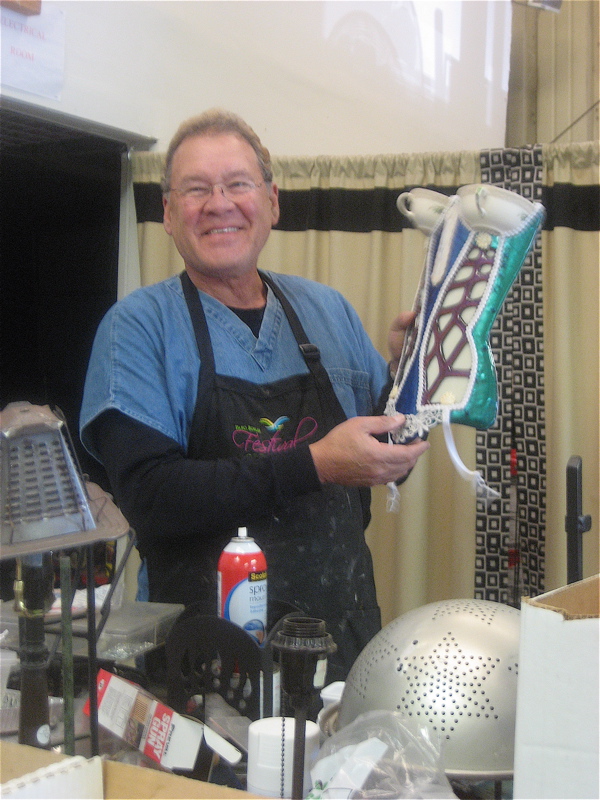 Larry LeBrane is a glass and multimedia artist working and living in Los Osos, California. His studio is in San Luis Obispo, and he's known nationally for his avant garde stiletto heels and tea cup lingerie. What struck us about Larry as we talked to him is that he's one of those artists who consistently made choices that kept him on the artistic path from an early age. As you read through this interview, and look at the images of Larry and his work, you'll get a sense of the infectious humor that shows up in everything he does.
This exerpt is from well into the conversation:
Peggy: And now you're doing corsets.
Larry: Oh I've got an interesting story on the corset too if you want to go into that. One thing begets another. There's an artist in her late '80's or early 90's, she's a glass artist and I admired her stuff whenever I came to town when we vacationed here. Her name is Ina Mae Overman and she did the glass panels that were always hanging in the art museum and she also had them in the mall over the Just Looking Gallery, they're all over the windows, that's Ina Mae Overman. She was an engineer with the Department of Water and Power and she retired and moved to the area, in Arroyo Grande. I noticed that she and Bob Kerwin, engineers, think symmetrically and geometrically. And it's beautiful stuff, you can't go wrong with symmetry. It's automatically balanced. It's perfect you know. So ok, you can't go wrong, so one day she did this piece that was different. It had an organic shape, a curve, but still symmetrical so it had a bunch of lines that went up like this, it had some dimension to it. But she had it hanging this way (horizontally), so when I saw it I went like this (tilts head) "That looks like a corset." So it was like $85. I wanted it to remind me of the corset so I bought it and I switched the wire and I hung vertically. So I decided to make some corsets. I just liked the idea. And I was trying to figure out what to use for the cups, and I said cups, cups, cups, coffee cups, TEA CUPS! Tea cups are fancy, so I decided to make a whole corset from tea cups.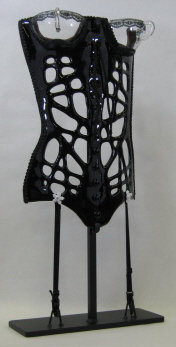 So I saw Ina Mae about a year and a half later at some studio visit and I said, "You know I bought that piece." And she said, "Yeah I know." And I said, "You know, it was hanging the wrong way." And she said, "Yeah, I hung it sideways because somebody said it looked like a brassiere!" And I'm thinking that's the whole point, what's wrong with that! So I made a corset. I previewed it for Open Studios. I didn't know how it was going to be accepted, I just didn't know. Of course, the reception was great, everybody loved it, they thought it was funny, they laughed because instead of nipples you have love handles. Tea cup handles. And I had two offers to buy it, my first one. And the first one was designed to hang on the wall and I got into a show where they said they had too much 2 dimensional stuff so I made stands for them to make them independent from the wall. So that's how it evolved. But it evolved from that one piece that I saw. I didn't steal it, I borrowed it, I was inspired by her, and it just hit.
Michael: And it's still evolving because back in the studio you showed us the lamps and variations.
Larry: I want to avoid the repetition and I want to do something new to keep me interested so I just kind of kick it up.
Michael: We've got one question we always like to end on, and that is what would you tell somebody that's just getting started? Someone who wants to make an artistic career at any age, whether you're 19 or 70? And you suddenly realize now's the time. How do you do it?
Larry: You have to be pragmatic and balance what you want to do with what you need to do. You have to balance it against where's your food going to come from or how you're going to pay the bills. So my advice is to know where you want to go and what are you willing to give up to do it, basically. What comfort level do you want? Do you want to be in a relationship with somebody else, you know because it's a lonely pursuit and it's selfish. It's one of the arts you do by yourself.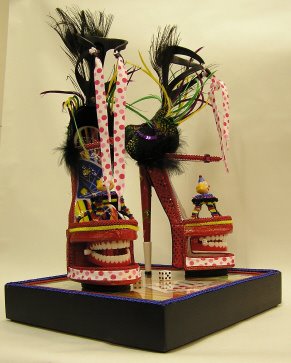 Like writing. It's not a performing art where you collaborate. When you collaborate in performing arts, you get instant gratification, people like it or they don't like it and you know it right away. So visual art is the lonely art where you do it alone and you finish it and you put it out there to be reacted to. You want approval, sure, and you want sales, sure, but you do it to feed your soul because you don't know what else you would do. You know the more you do it the more you think about it too. And I didn't think about it as much when I was teaching. I mean I saw art all the time and I evaluated art all the time, student art. So I was aware of what was going on but I wasn't participating in it at the level that I wanted to. A lot of people in this area studied art long ago. They put it down and they're coming back to it because they're retired and in a position to do it now. We were talking last year to my neurosurgeon. When he retires he wants to go back to that pottery class he took back in college and get a wheel and make pottery, make ceramics. We're talking brain surgeon here.
---
The article above was part of our Outside the lines member's note from Sunday morning, February 5. To get all the content we send to our members:

subscribe here