Peggy's Progress
(Not to be confused with John Bunyan's tale of agony and doom!)

Can't See the Forest for the Trees
We've all been in situations where we focused on the details and all the moving parts (the trees) so much so that we missed the "big picture" or the "forest." When you're making a DIY building project or a painting or whatever, you know how blinding it can be when you're "too close to it." We tell ourselves to walk away from it, because when we get stuck in the details we tend to lose sight of the overall objective of the project we're working on. One time I was cooking for a bunch of friends and was so focused on making fresh homemade spinach lasagna (for the very first time) that it took hours and my guests were starving. I had missed the point that we had invited people over to feed them, not to try out my new pasta maker and an untried and particularly laborious recipe.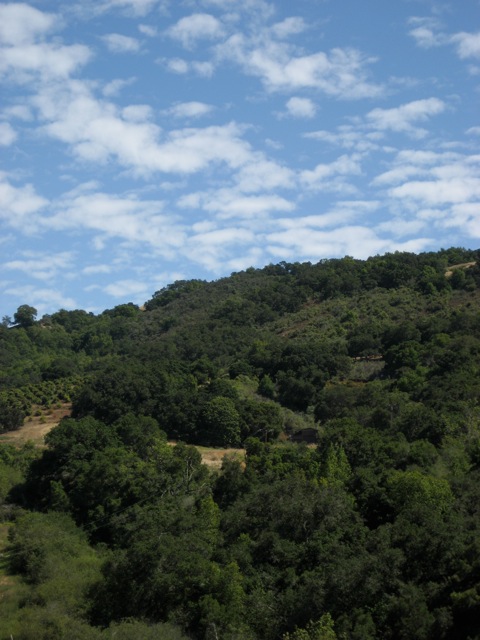 But I think sometimes it goes the other way too. Sometimes there's too much big picture and you miss those fine details. Sometimes, like for me at this moment, I can see the forest but I can't see the trees. This is playing itself out in two different ways right now for me.
The first has to do with the landscape out here at Windhook. One of the big things that captivated us when we first saw this place was its wide open views—the views up and down the little valley and the big swaths of trees and bushes on the hills across from us and up and down the road. There are trees everywhere I look. In large clusters.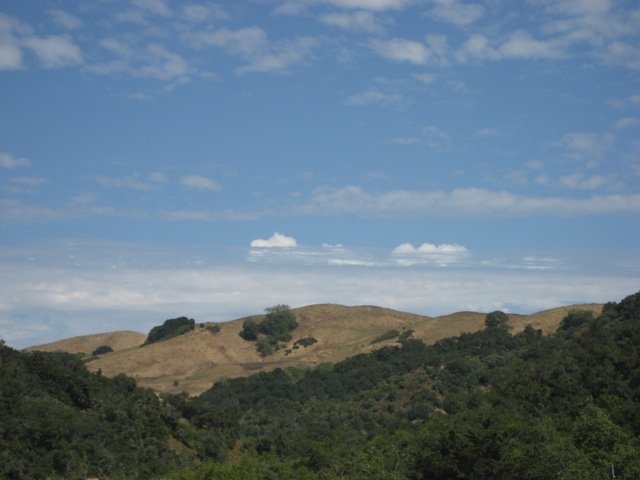 I don't tend to think of them as made up of individual trees and species of trees, the huge California Sycamores, bright green California Big Leaf Maples, Willows, fragrant California Bay Laurels and the abundant Coast Live Oaks. What I mostly see is just the forest, or all the trees as a whole.
There are some really spectacular specimens right here at Windhook and yet I tend to ignore these special trees. I really don't spend enough time amongst them or just appreciating them. There are of course, some real favorites. The enormous bay tree at the top of the hill that often houses a barn owl. There's the really tall sycamore we call the "bee tree" because it is hollow and looks like something Winnie the Pooh would eat the honey out of. Just across from the bee tree is a very large black oak with massive spreading branches all around.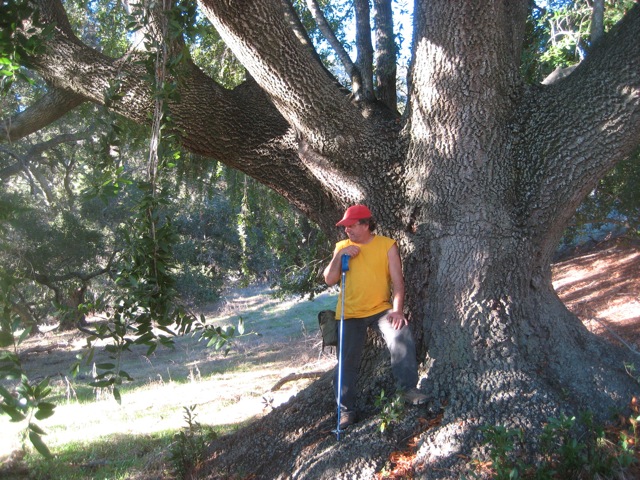 While we look at and are surrounded by lots and lots of trees, the main activity areas on our property have no trees whatsoever. There is a great advantage in that we never had to cut trees down to build anything, but it does mean we have something of a blank slate. In some ways I think that has made it harder to place the kinds of trees for sunshade and windbreaks where we need them. We've planted some citrus trees and bee plants like lavender and rosemary but we'd like to plant trees for creating outdoor living spaces out of the wind and shaded from the sun. But because of the forest I've had trouble figuring out where to plant these individual new trees. I worry about blocking views of all that green forest and Michael has to convince me that it's possible to "frame a view" and not obliterate it.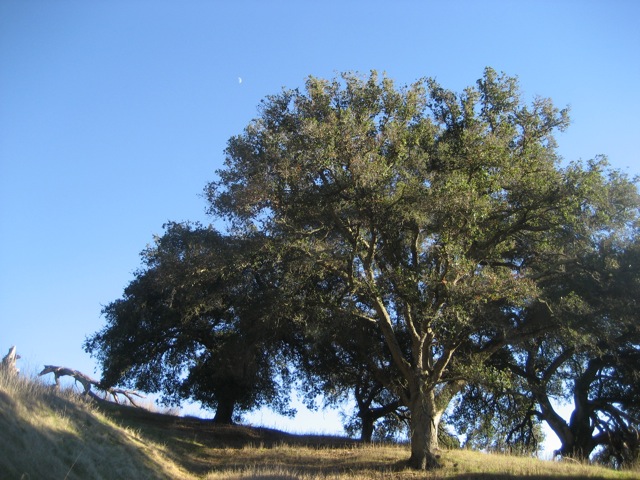 I worry about messing it up, putting trees in the wrong place or putting the wrong kind of tree in a particular place. 10 years later we still have no trees for windbreaks or shade from the sun.

Which brings me to the second of my forest and tree dilemmas. When a tree falls out here in a wind or rain storm we pretty much let nature takes its course. Other than moving the trunks and limbs off the trail or road or maybe culling for firewood we don't do much more with the trees. But since I like to call myself a woodworker I know that I could and should be doing things with those fallen trees. While I've spent a little time learning about the living tree species I've spent virtually no time learning about what to do with the fallen trees and wood even though it's something I'd like to do. Hence the root (pardon the pun) of Tree and Forest Dilemma #2. And as a woodworker I feel like I should be more of a steward than I am now.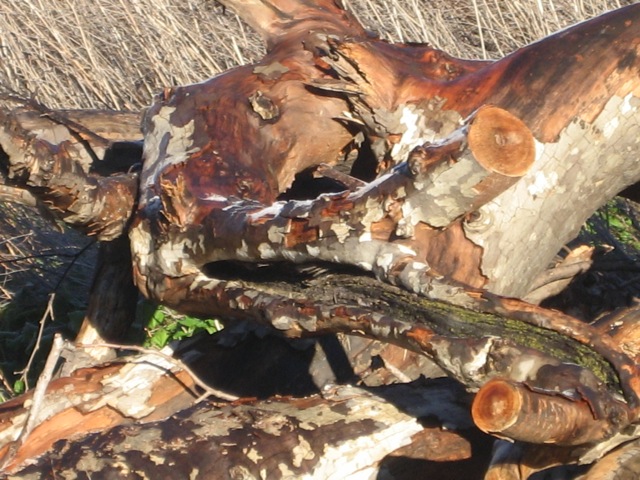 After all, woodworkers have a special reverence for trees as exemplified by these words from the late George Nakashima, master woodworker, architect and designer :
"The spirit of a tree travels in and out through the grains and fibers and can often reveal great joy."
—George Nakashima: Full Circle, by Derek E. Ostergard, page 91

"There is so much to experience, as the grain of a tree has many moods—happy or sad, calm or exuberant, rich or plain. These are the feelings we must honor. Ultimately, the woodworker's responsibility is to the tree itself, which has been sacrificed to live again in the woodworkers hands...A tree ages, dies and returns to dust...Other trees are cut in their prime to serve man...Clear cutting is rampant in forests throughout the world and will someday change the global climate and challenge the survival of man. Yet there is a point when trees mature and should be cut. Left to stand, they return to the earth and are lost forever to the woodworker...Deciding when a tree should begin its voyage of adventure can either be a creative or a destructive act."
—George Nakashima: Full Circle, by Derek E. Ostergard, page 90
Several years ago Michael and I were visiting my friend Nancy in Princeton, New Jersey. Nancy and her husband Jim took us out to Nakashima's studio, home and production facility in New Hope, Pennsylvania. In the middle of the countryside, over many years Nakashima collected lumber, and designed and built his distinctive work, notably his free edge tables. Often imitated now, his tables allowed the natural shapes of the wood to form the distinctive qualities of his truly one of a kind pieces of furniture. His work has always inspired me, and I was thrilled to see his work, both architectural and woodworking in the construction of the buildings and furnishing for a family home, studio and shop. But perhaps equally amazing were his packed storehouses of wood that he collected over decades. The storehouses where slabs of wood were kept until he found just the right project for them.
The sight and smell of all that wood was something to behold but I didn't have a clue about what principles are involved in the science of harvesting or properly storing the wood. A big part of Dilemma #2 is that there is so much I don't know about trees and wood. But I want to know. I want to learn how to harvest local (so local I mean our own) wood and how to properly dry it so I can use it for woodworking. I hunt and peck on the internet to learn about harvesting and storing wood but haven't gotten very far with it yet. There are even local resources I can call upon and plan to do so this year. Wood artist Barry Lundgren is just over the hill and would be a wealth of information. There is also a young man in Cambria named Aaron Appel who harvests local wood and makes furniture. Don Seawater at Pacific Lumber knows a lot, particularly for large scale and construction work. I figure I'll do a little more reading up and then give them a call to see how I can learn from them.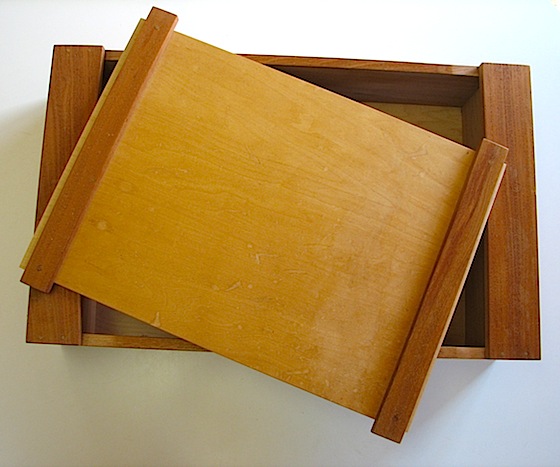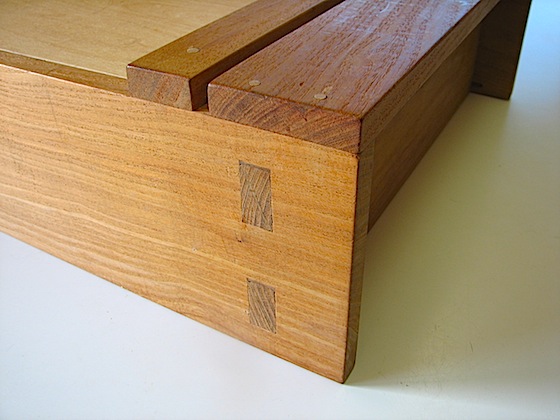 The appreciation of trees and wood were engrained (sorry, I can't help myself with these puns) in me by my woodworking teacher, Debey Zito. She often reminded us of the woodworkers credo that the tree took a long time to grow so every piece of furniture we make needs to last a long time—at least as long as the tree lived. I loved Debey's classes even if I wasn't her most prolific student. In four and a half years of a weekly class I made two pieces, a trestle bench, and a Japanese style tool box. Michael will tell you I spent a year sanding something. He exaggerates of course, but I did take an awful long time sanding it. And all the pieces I ever made took a long time to build and a long time to sand. I love sanding. I love the sound, but most of all the smell and the feel of freshly sanded wood. I love the smell of sawdust in a woodshop. Michael needs to remember that Nakashima said: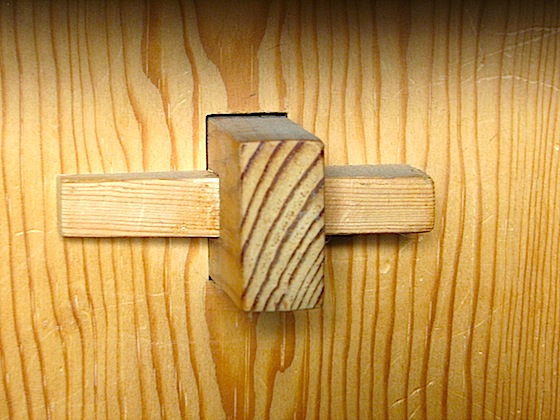 "The love for the nature of teak and walnut can best be obtained by working with the materials; by cutting, planing, scraping, and sanding the wood. Hours spent by the true craftsman in bringing out the grain, which has long been imprisoned by the trunk of the tree, is an act of creation in itself."
—George Nakashima: Full Circle, by Derek E. Ostergard, page 12
I'll never be a George Nakashima, but I know I feel about wood the way he did. And I love his approach to the creative process: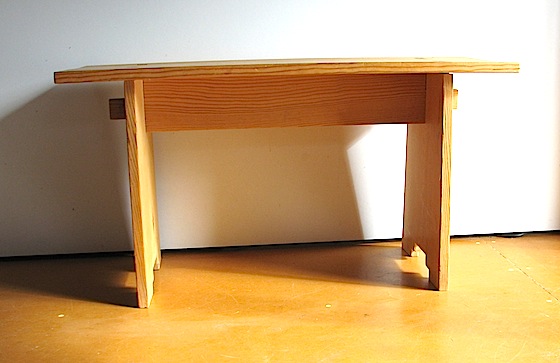 "There is mystery in the creative process and its relation to craft; the infinite moves into dark waters. To find an answer to problems as we see them, to seek solutions and produce objects in space, to fulfill man's needs with a touch of beauty, to use materials dear to nature, making small answers with useful things - since my earliest experience as a woodworker, all this has been my destiny."
—George Nakashima: Full Circle, by Derek E. Ostergard, page 89
I really like the part about "making small answers with useful things." Sounds like it could be fun and definitely worth trying.
---
Here are some beautiful books if you want to know more about George Nakashima.