Peggy's Progress
(Not to be confused with John Bunyan's tale of agony and doom!)

Propagation
Though Spring is still a month away it already feels like Spring around here. The sun is out and there are flats and pots full of green cuttings and new plant starts laying around outdoors and indoors, even on the kitchen table. Michael has taken cuttings from lavender, rosemary, madrone, bay laurel and the San Luis Obispo native, Sargent Cypress. Last week our friend, Leslie Hannon, sent me a big box of cuttings from her succulent plants she was thinning out.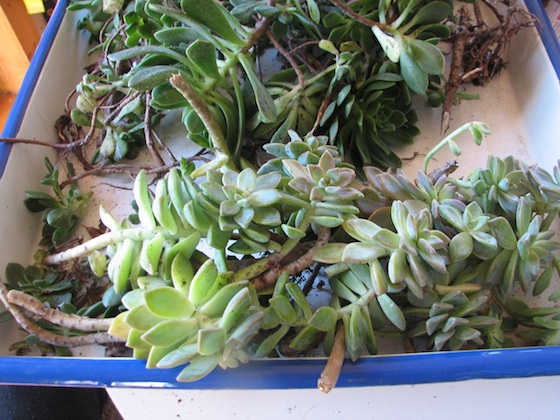 From her gift I planted three pots and two flats full of clippings. We are surrounded by junior and baby plants of all kinds - you'd think we had green thumbs. But that is not the case. Michael's idea of a good plant is one that can survive a minimum of care, mine would be a plant that could survive with no care.
Growing up in Los Angeles in the 50's and 60's I knew very little about gardening. It was a time when all the fancy houses in Beverly Hills and Bel Air had Japanese gardeners. We had one too, only it was my Dad. (By the way that's a joke that was told in many a Japanese American family in those days, so it's not mine.) But my Dad liked to putter in the yard, though when I was five my parents built a house in the hills with soil that was mostly shale and not exactly plant friendly. He managed to have some incredible bamboo stands (thanks to a leaky hose bib) and some lovely azaleas and bonsai though he wasn't compulsive about any of it. But he didn't exactly inherit the green thumb of his mother, my Grandma Hana. Hana means "flower" in Japanese and I always thought it was the perfect name for her. She was small and always well groomed and could grow just about anything. Her house sat on a deep lot in West Los Angeles and out of her garden came beautiful flowers, blackberries and other fruits. In the fall you'd pull into the driveway and see little persimmons tied with string hanging out to dry on any available tree or often on the clothesline. My Uncle who lived in that same house till he died two years ago kept the garden going with many a flourishing citrus tree including giant grapefruit, Japanese yuzu and tangy Calamondin. As a kid I loved my Dad's sister's yard. She also lived in LA and had a full on Japanese garden with ponds and stone bridges. So where'd all those good green thumb genes go? Not to me obviously.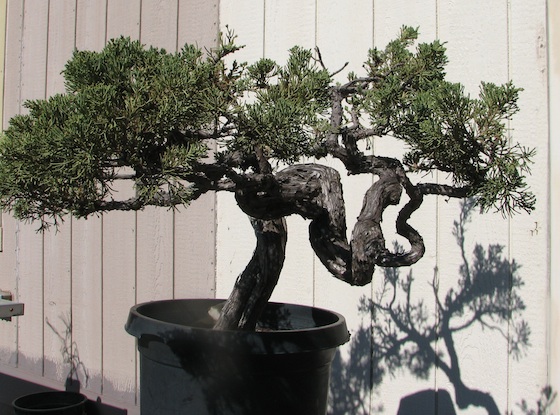 It's why I nearly freaked out when my Uncle died and the house was sold and there were many, many potted plants to deal with. Not having a green thumb I was very reluctant to be responsible for them. And these weren't simply potted plants. Among the specimens was the 85-year old juniper in a box that my grandparents had from the 1930's at their house in Compton. During World War II when they were put in the Gila River Internment Camp in Arizona, they had someone rent or take care of their house and the yard. When they got out of the internment camp they returned to LA eventually moving to a house the family built in West LA. The juniper moved with them. So when my Uncle died, I had hoped one of my cousins, who do indeed have green thumbs would adopt the juniper. But no such luck, there were no takers so not wanting to sell or abandon it, we brought it home. I'm happy to say that thanks to Michael the juniper is still alive. In fact it was thriving for the first year until we started noticing strange things happening to it. We'd go out in the morning and notice that a lot of the greenery was gone and where once there were juniper spikes, all that was left were very, very razor sharp cuts on the stems. The snipped off foliage was just gone, disappeared, nowhere to be found. We weren't sure what was causing this or who had tiny razor sharp clippers and liked to work on bonsai junipers in the middle of the night so Michael set a big rat trap in the juniper pot. Bingo! Next morning there was a dead wood rat in the trap. So the juniper was saved once again, no thanks to me. And thank goodness my Uncle had taken cuttings from the old juniper so we have smaller offspring from that parent plant as well just in case.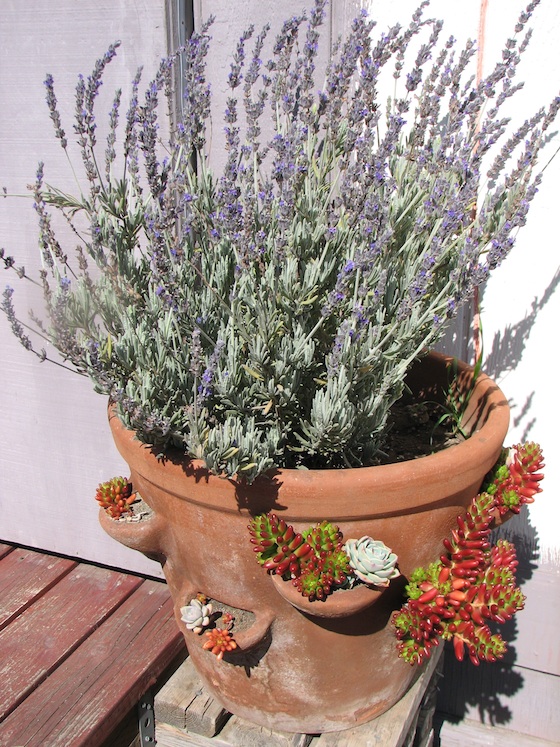 Which is why I think I'm having so much fun with the succulents Leslie sent. They seem virtually Peggy proof. I haven't managed to kill too many of them. Even the few succulents I've bought over the years have managed to survive. Though I am saddened that the last of my late mother-in-law's jade plant survivors seems to have disappeared last week. I don't know what happened to it. It was just a little nub of a jade plant from Grandma Paula, my ex-husband's late mother, who also could grow any plant in any kind of container. She had a big garden and she'd stick a bit of a broken plant in one of the grandkids old tennis shoes or into a broken tea cup and it would just take off. I'm eyeing a couple of old empty metal gallon cans that would make lovely planters for my succulents. Anyway, I had one tiny survivor from one of Paula's plants from at least 20-something years ago and I had put it in a shallow pot with some other little succulent leaves. The pot is now empty. They all disappeared! I did see a big fat bird sitting around the table near the pots and I'm wondering if the birds ate them. Well at least I didn't kill the plants!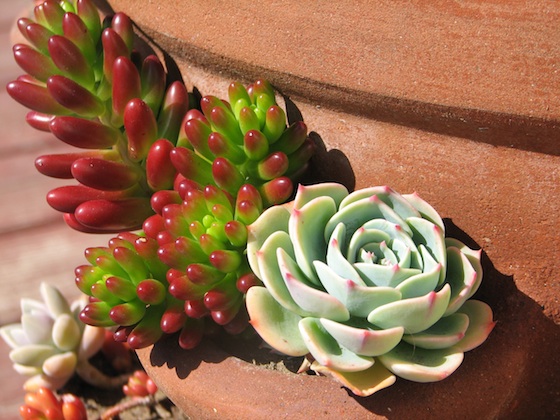 And not only am I not killing plants, I'm growing new ones from the old ones. Propagation. What a fabulous thing! Who knew? Taking plants and creating more new beautiful plants. How's that for creativity? Propagation is yet another lesson learned from the recession and living on limited means. You don't have to go to a nursery and BUY plants. Duh! You can make new and more plants from the ones you already have. Instead of spending $5 on a pot of lavender Michael took cuttings off the plants we already have and made dozens of new plants. They were big enough to put in the ground and seem to be doing quite well. And we have a lot off ground to cover. My other favorite recessionary discovery has been the public library, one of my all time favorite spots. What an incredible resource it is. And now many libraries are becoming seed banks. How perfect—the combination of two of my favorite things! I don't know if our libraries around here are doing the seed bank thing but I will definitely find out. Also before it's too late, I need to check out the online seed catalogs to get ready to plant some Japanese and Chinese greens, fun radishes like the long skinny french radishes or colorful round watermelon radishes. The beauty of starting with seeds and cuttings is it's cheap and easy but also very rewarding.
It's fun to see how they grow to become real plants, especially the ones you can eat. And all the plants are lovely, but the succulents come in some of my favorite colors like pale blue greens and they change colors depending on their living conditions too so you never really know what you're going to get.
I checked out a beautiful book at the library called Succulent Container Gardens
by Debra Lee Baldwin for some technical advice and inspiration. I want to use some of the new little plants I've started to make a succulent painting - a wall hanging of planted and framed succulents. And this year I will definitely make some concrete planters for even more succulents. Baldwin has some great videos on her youtube channel.
There are few things in our complicated lives that can offer that kind of simple pleasure - propagating plants is not only cheap and easy but therapeutic, fruitful and beautiful all at the same time. And some plants like my grandparents juniper or Grandma Paula's jade plant have have their own stories and help us remember loved ones long gone. Or the sedums I bought because they remind me of the ones on my maternal grandparents front porch that we called "pork and beans." I could go on about propagation and creativity and growth and rebirth or legacies and memories and all that. But instead of sitting indoors writing, I should be outdoors propagating more plants, specifically splitting some plants. We have a Bee Balm plant that needs to be divided and replanted. Though the bees took to it only late in the summer, the hummingbirds loved it for months and months. And there's the mint plant that likewise needs to be split up and replanted. It is indeed the season for propagation so I guess I'd better get out there and get to it! Besides next week we'll introduce you to someone who really knows how to grow stuff, so be sure to come back and read all about it.