<!———**************———> <!———**************———> <!———**************———> <!———**************———> <!———**************———> <!———**************———>
The Windhook Interview—Peg Grady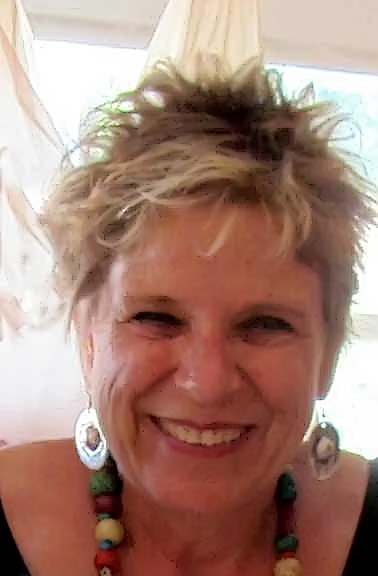 In mid-September we visited the studio and home of Peg Grady in the hills 10 miles east of Santa Margarita, CA. Peg is a painter with more than 70 shows to her credit in galleries from Maryland to California and from Arizona to Oregon. Peg is a character bigger than life, who has spent a lifetime making interesting, and sometimes surprising choices, and this adventurous streak runs right through her work. You can see more about Peg at peggradyart.com. So let's dive into the interview.
Michael: The Santa Ynez Valley News recently described your biography as "colorful." Could you shed a little light on that?
Peg: Oh yeah, yeah, about my colorful biography—well, by the time you're 60 years old you should have a colorful biography. Probably it's the whole idea that I didn't grow up, go to art school, get my MFA—you know, I didn't do what I was supposed to do. So instead I grew up, sort of, had 500 different kinds of jobs, always did some sort of art, or some sort of craft, or something, was a prison guard, wrote horoscopes, did all sorts of very strange things that most normal people don't do.
Michael: You started out in New York. In what ways have your early days in the City influenced you?
Peg: I was born and raised in New York City—in Queens—in an apartment building that Don says looks like something out of the Soviet Union. [Don Lampson is Peg's life partner.] It was pretty sparse, but what do you know when you're a kid? That's how you grow up, and that's how you figure everybody grows up, so yeah, I grew up in Queens. When I was 20 I moved into Manhattan because that's where the happenings were. I worked there and just did the city life. I went to clubs—this was the late '60s and early '70s so everything was happenin'. It'd be like which demonstration should we go to this weekend? That kind of thing.
Peggy: Did you hang out with other artists there or were there artists in your family? Anyone into art in your family?
Peg: No, no. And I was really more of a hippie then rather than an artist. To call myself an artist at that point would have been a real stretch. I was doing stuff that hippies do, but no, I was not at all serious about being an artist then. I didn't even know that's what I was. It's just kind of a surprise.
Michael: How would you say that that time has impacted you as an artist and creative person?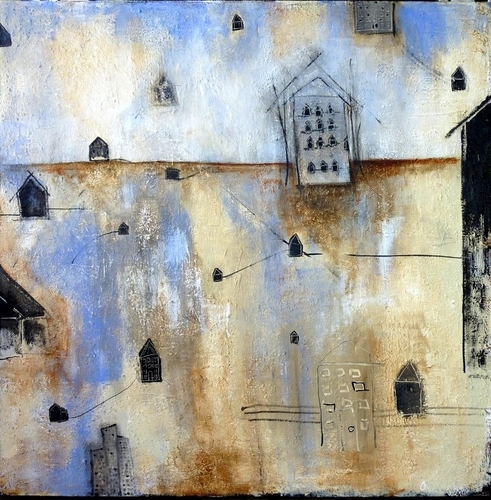 Peg: Probably just the freedom of the time—the whole idea that you could just do whatever you wanted to do. You could be whatever you wanted to be. The whole feminist movement came in then and prior to that you could be a secretary or a teacher or a nurse, and you're supposed to be a good little girl, and blah blah blah. Then feminism and the whole antiwar movement and—it just went nuts—and it just blew everything up, so how could you not be impacted. It was that whole sense that you could just do whatever the fuck you want. I don't think you can be an artist without that feeling. In 1968 I was 18, so it was the most impressionable time of becoming a person, and it was just when the whole world was going wild.
Michael: And you were 25 when you moved to California?
Peg: Yeah, I did something stupid and married some guy who I shouldn't have married. And one of the good things was he had been out in California when he was in college and he said, "You want to move the California?" So that's what we did. I was 25. We moved to LA. If we had moved from New York to here I would have lost my mind! It even was strange going from the energy of New York to LA. LA was so laid back in comparison that it took a long time to get—LA was very strange, very strange.
So anyway, I moved to LA and then I divorced the fool, and a long ugly story we won't go into. Then I met Don in LA. We were both working for the Herald Examiner newspaper. We were both selling advertising.
Michael: How long ago was that?
Peg: 1979. Why? Did you work there?
Michael: No, just wondered how long you two have been together?
Peg: 30 years.
Michael: So you worked at all these different jobs.
Peg: I worked at all these different jobs for many years.
Michael: And when you were 40 you went back to school?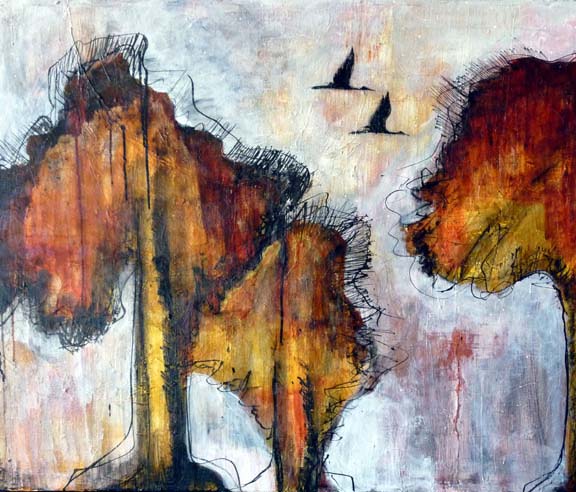 Peg: Yeah basically. I was always wanting to make stuff. Again to call it art would be a stretch but I always liked making things. And I was searching for something to do and I thought I'd like to learn to paint 'cause that just seemed like that's what you're supposed to do. You know you're supposed to learn how to paint. So I took a class. It was just an adult education class and it was a watercolor class and it was the most God awful boring horrible class I'd ever been in. But I stuck with it. I knew this wasn't what I wanted to do but I really wanted to see where it would go, and I saw an article in the Tribune that there was going to be a workshop given by Bob Burridge, and I think it was called "Get Loose and Juicy" or something. I asked the teacher of this horrible watercolor class about it, "Do you think I should do this? Do you think I'd like it?" and he said "yeah, I'm sure you would really like this class."
So it was given over at Cuesta College. I guess it was '88 or '89. It was on a Saturday and I was working at the prison and had to work weekends, so of course I called in sick and went to this class. I had brought my paper and my paints and everything, and in comes Bob and he's got a boombox blasting and he's like a wild man, and he's like "all right! we're gonna paint!!!" I'd found it! He's a fabulous workshop instructor. He's the kind of person who, even if you don't know what the hell you're doing, he can bring it out in you, and he's just wild and crazy and that's what started it really. That's what started this part of my life pretty much, and I'd have to give him the credit or blame for doing that. And it was just—there was just something about his teaching method, his enthusiasm, that just got into me. He says he gives you permission to do what you want to do. So he was very, very good.
So I went back to Cuesta. I didn't get an MFA and all that kind of stuff, and I took a lot of art classes. Everything from just basic 2-D design. I took sculpture, life drawing, everything. They finally just kind of threw me out because I finally ran out of classes that I could take.
Michael: Let's talk about motivation and the challenges of keeping yourself going. Is that ever an issue for you? Do you ever hit dry spells? Ever get to point where you just can't seem to make it happen.
Peg: Oh yeah! I cry, and rant and rave and bitch and moan. I guess I'm old enough to know that no process is gonna be smooth the whole way, and to just grit your teeth and just keep going. 'Cause when I do so many different things, a lot of times if I get stuck it's because I'm getting bored with the process I'm doing right then. So I'll switch over. That helps a lot. A lot of times it's just a matter of changing materials. But again, I always think that you're supposed to be a painter. That's the rule, you're supposed to be a painter. You know I have no idea where that came from but it's in my head. And so a lot of times I'm painting and I'm finding eewww, yuuckk! And what I really want to do is to smash things and staple things and glue. So it helps a lot to jump from one material to another. And then what I've found real helpful for me to keep going is something I call "daily discards". You know, real simple line drawings every day—forcing myself to do something really simple every day. Really, it gets a momentum going. so now I'm doing a new thing. It's a weekly thing, but again, it's giving myself an assignment. And what's good about that too, is that then "I've done my work" and then I'm free to go do something experimental—I can play. That helps.
Michael: How much do you structure your time? Some people are in the studio every morning and work X number of hours no matter what.
Peg: It's not like that. I'm a creature of habit. I'm usually up before the sun and I'm out the door as soon as I can, and I go for a 4 mile run-walk type of thing and that's where I clean my head out. I work on a painting or an idea when I'm walking. So then I might rush to the studio because it's such a genius idea I don't want to lose it, or I may have come up with like zilch, so then sometimes I just screw up and sit around and look at the internet and "research".
Peggy: So your "daily discards"—did you have a set time? Did you do them first thing in the morning and how long did they take you to do?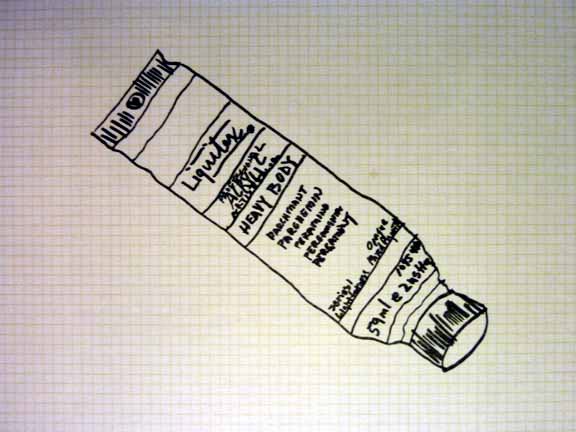 Peg: No, just whenever. Sometimes it was quick—like one time it was a simple lightbulb, and then one was like an old telephone so it was one of those days I just wanted to get into doing a bunch of details, so I'm doing each little button. So it varied, but it was my assignment for the day. I just had to do it sometime during the day, and I could decide whether I wanted to do something that was really intricate or just super simple. And I really like the whole recycled idea, so I did it on recycled paper, and then I did it on old vintage fabrics and framed them in old vintage frames. So that was fun. But it gave me the freedom to then do other stuff because I'd done my homework. Can you tell I'm German?
So now I'm doing a weekly thing, and I just started it last week. I get the Sunday NY Times and I just take a half sheet of watercolor paper and I put the headline or the banner up there or just what interests me, and then kind of paint over it and then through the week it's like a diary—a journal. "What did I do this week?" I've discovered this stuff. It's clear gesso and I didn't know it existed. So when I put the newspaper down—I was thinking I wanted to do it with the newspaper, especially so it had the date—so if you seal it with the clear gesso, and you can paint it, and scrape—it's my wonderful stuff. It's my new secret stuff. Not a secret now obviously, the whole world is going to know now.
Michael: We counted more than 70 exhibits listed on your web site since 1998. Many of them are in the Central Coast area but there are quite a few like shows in Baltimore, Scottsdale, Portland and Southern California. That's a pretty impressive list. How did you manage to make that happen? Did you start showing in 1998 or is that just where you started listing shows in your resume?
Peg: Really? And that's edited. Well I've been in group shows. The ones in Baltimore—this was years ago. Of course this was when the economy was a hell of a lot better than now, and basically I was just researching galleries that handled work similar to mine throughout the country. So I sent out letters of inquiry—cold calls, basically. But this was email so when they hang up on you you don't know—the feeling of rejection wasn't quite as severe. And this gallery in Baltimore contacted me and said, "Hey, we like your stuff," and you know, I've never been there. I never actually saw the gallery. I was surprised, but he sold work of mine. What was amazing was—this is weird. You're 3000 miles away, and he gave me the names of about three other artists who he had represented, and I contacted them and they said "He's cool, he pays on time, he doesn't screw with you, he handles your work really well, and I never had any problem whatsoever." And a couple of years later he decided to retire. He actually moved to Colorado to open a restaurant. He sold it to a gal who'd been working for him for 11 years, and then finally the times just ate her up.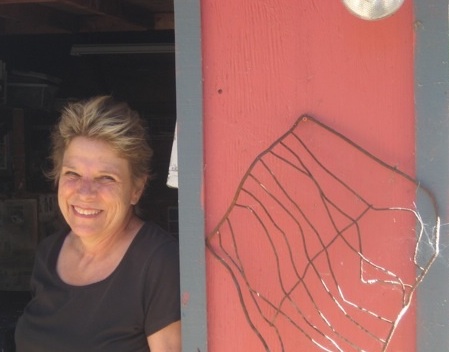 And then the gallery in Portland—the Beet Gallery—they just had a call out for fiber art and I had done some fiber arts, embroidery and stuff, and I contacted them. It's mostly through the internet, seeing the calls for art that are out there. A lot of the galleries I listed are shows that traveled—some prints that traveled.
The C Gallery in Los Alamos—my friend Julia Alexis told me, "Peg you have to go and see this gallery because it's really cool." So I went online and looked, but the gallery doesn't have one of those automatic email sign ups, and you have to email her and ask her to put you on her email list. So I just dropped her an email and on the bottom of my email is my website. And about 6 weeks later she contacted me and said, "I really like your work." I wasn't pitching her. I just wanted to be on her email list. So I went down there and brought some pieces down with me and I'm thinking she probably has a group show. But she says, "When would you like a show?" So it was about a year later. It was one of those things. You bust your ass trying to go around pitching, schmoozing and all that kind of crap, and then you just send an email, not even trying, and there it is.
Peggy: Are there particular groups—you mentioned the Fiber Arts group—are there other groups or websites you check regularly for Calls for Art?
Peg: The Fiber Arts is really good because they have a website they update really frequently. It's fiber arts, but a lot of times it's a group show and they let all kinds of art in. I use Google Alerts and have an alert for "Call for Art," and a lot of times there'll be galleries that'll be having something. Of course a lot of it, 90%, is just places trying to make a buck with their entry fees, and that's unfortunate. And I check into the local stuff, I'm hooked in, and you know—it's a struggle.
Michael: We did a quick Google search and found over 860,000 references to Peg Grady. The first nine pages only had a couple links that were not about you. You clearly have an internet presence. To what extent do you manage that?
Peg: No, anytime I do something right, it's an accident. No I research. It's probably the local papers and stuff. I'm impressed too. You just punched in Peg Grady and that's what you got?
Michael: You're pretty well known in this area.
Peg: Well, yeah I've been around here a long time. Like the show in Cambria, the Deer Run—Nick found me. I mean I knew him to say hi at shows and stuff but that was about the extent of our relationship. Nick Wilkinson, he is like the curator for Deer Run. He was doing art shows—he found it because I put DailyDiscards on Facebook. And he really liked them. I use Facebook. I don't like to promote myself a lot but if I'm doing something fun I'll throw it on there—researching on the internet, looking for shows that are looking for people.