Sandy's Cafe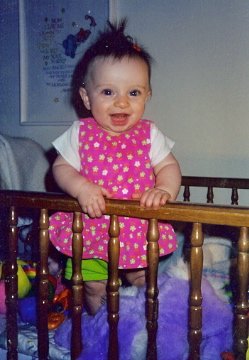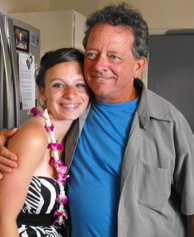 On Friday, Peggy and I drove to the 8th grade promotion ceremony in San Jose for our oldest granddaughter. It was good to be there, and a bit hard to get our heads around how Angi has grown and blossomed over the years. She has turned into a remarkable and beautiful young woman, but it seems like just yesterday when she was a toddler. This is the plight of grandparents, and a good plight it is—And did I mention that she was presented with an award at the ceremony for her studies in Spanish?
What I sat down to write about now is something that happened on the way to San Jose Friday. More than a dozen years ago, before I met Peggy, I was a regular at a little cafe in Gilroy, where I lived at the time. It was a pretty classic American truck stop about a half block off the freeway. I was single at the time, and in a bit of a rut, and somehow found myself swinging the door at the Gavilan Cafe at least a half dozen times a week, between breakfast, lunch, and dinner. I knew the waitresses, and quite a few of the customers, and the staff new my usual orders.
The Gavilan Cafe was my office. I was the founder and president of the Gilroy Beekeepers' Association, and often met with beekeepers there. I made a point of sharing meals with each of my three kids there, usually one on one, to make sure we were talking and getting in some quality time. I managed to get most of my informal meetings with friends and acquaintances to happen at one of the window booths in that place. It was familiar and comfortable and ordinary.
It had been many years since my last visit to the Gavilan Cafe when we rolled through Gilroy on Friday, and we decided to stop there for lunch. Peggy had been there once or twice, shortly after I met her, and while I still lived in Gilroy. We had driven past a couple of times since but had never stopped in.
The name has changed, but not much else in 13 years. The Gavilan Cafe is now Sandy's Cafe. This was really good news to me, because Sandy was the reigning queen of truck stop waitresses when I knew her years ago. She did not own the Gavilan Cafe back then, but it was her place none the less. I wrote a story back in those days about the waitress, the place and their magic. The story is called "SANDZ67" and it is posted, along with most of the writing I did back in those days at a blog called Walking Man's Shadow. The writing from that time was part of the cathartic healing process I undertook to recover from my divorce from a marriage of 25 years that had ended slowly and with all the pain and difficulty of such endings. But that is a different story for a different place and time. For now, all you need to bring you up to speed is to jump over to the blog and read SANDZ67.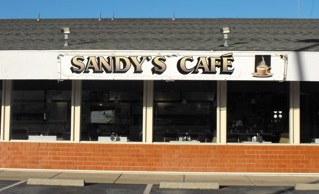 When we sat down at Sandy's Cafe this week, Sandy was no where in sight. I didn't recognize the waitress, or the cook, but apart from the fresh coat of paint, the paving in the parking lot, and the new sign on the front, nothing had changed. We ordered and as the food arrived, I asked the waitress if Sandy was still driving her red '67 Mustang.
"No, she has it still, but now she drives that Yukon." She gestured toward the parking lot out the window. "She's around here somewhere."
A few minutes later I got up to use the restroom, and as I returned to my seat, Sandy walked out of the back of the restaurant and caught my eye. I apparently had telegraphed to her that I wanted to talk, and she said, "May I help you?"
"You probably won't remember me, but more than a dozen years ago I used to be a regular here."
"You do look familiar." She studied my face for about a second. "You're a writer. Don't tell me." I could see the wheels turning in her head. "You wrote a story about me."
I was amazed and moved that it came to her so quickly and easily. "Yes! SANDZ67."
"I still have it. I read it now and then. It was going to be part of a book. Walking Man's Shadow, right?" I was amazed again. "I go on Amazon now and then to look for that book. But I can never find it."
"Well, I haven't published it," I responded. "I guess I should." It didn't occur to me at the moment to point her to the blog. We were both thinking about traditional print publishing.
"I wrote another story about Mary Ann."
"She passed a while back. It was cancer." This surprised and dismayed me. Mary Ann was another waitress gem from the Gavilan. I was very sorry to hear that she was gone.
Peggy and I talked a bit more with Sandy and then we left. I had hoped I might see Sandy, and jog her memory of me, but as we left I marveled at the ease with which that memory came back to her, and with such clarity and significance. I was moved. As we drove along, talking lightly of the experience, I realized that this was a triumph of art. Sandy has seen countless regular and passing customers in the past decade, and engaged each one with her remarkable charm. I should have been a vague and foggy memory at best—a fleeting footnote in a long line of faces. But she remembered me clearly because of the role she had played in my art. It had touched her personally, and made an indelible mark. It was a testament to why we write, or paint, or sculpt, or sing. We all have our Sandys. They keep us going sometimes.
The People Have Spoken
Last week we wrapped up the second Phantom show with the announcement of the results of a month of balloting by the 4000+ viewers of the show. We had invited the public to vote for their favorite work in the show, and 1697 responded with a ballot. The resulting tally was revealing.
| | |
| --- | --- |
| Of the 465 artworks included in the show, 308 unique pieces were chosen by at least one voter as the best of show. The top vote getter only got 67 votes, representing just under 4% of the voting. The two jurors had only chosen 31 and 39 pieces respectively for inclusion in their versions of the show, and each had chosen a different piece as "best." Neither of those choices were the top vote getters in the People's Choice balloting. In fact, neither of those choices were in the top 20, and none of the juror's award winners were award winners in the People's Choice voting. | Peggy at the ballot box. Photo by Joseph Amanzio. |
In addition, none of the top 20 People's Choice selections, and none of the jurors' award winners were sold in the show. One of the highest priced pieces sold in this show was juried out of the first show entirely. In total, 32 artworks were sold during this second show for a gross sales total of $11,420. Of those sales, many were not chosen by any juror and did not receive a single People's Choice vote. But none of the artists who sold work seemed to be too troubled by the fact that the jurors and voters passed them by. There is something about a sale that trumps all other forms of approval or lack thereof.
What all this tells me is that our intuition to include all submitted work, and to layer the selection process with two independent jurors and with feedback from the public was really good. We got a revealing portrait of the subjective and personal nature of how art impacts us all. Yes, the jurors are well educated and experienced with art. Yes, there were some pieces that rose to the top in the eyes of the public. But the range of response was wide and varied, and demonstrates that you are well served by thick skin and a sturdy opinion of the call to make your art, whatever it's expression. Never give up. Stick to your calling. There is an audience out there for what you do, and your job is not to tweak your vision to "the market" but rather to refine your craft, make more of your art, grow your vision, and just hang in there!