Peggy's Progress
(Not to be confused with John Bunyan's tale of agony and doom!)

I've been having a recurring fantasy. No, no, not that kind, and I certainly wouldn't be writing about it to you all if it were that kind. I'm in Lake Tahoe at my annual "girls" weekend and I was told last night by my lady friends of 30+ years that
I must live on another planet because I hadn't even heard of the phenomenon of The 50 Shades of Grey
erotic novels. I understand it's been quite the rage and sold more copies that Harry Potter, so perhaps I should reconsider that best selling genre. But I digress.
My fantasy is something I daydream about on a regular basis though and often when I'm driving to work. The hour long morning commute down the Pacific Coast is a great time for daydreaming and clearing the head. What I visualize in this fantasy is a place where people of all ages and means can come play. Play with stuff, get their hands dirty and make stuff. In my mind it's a metal industrial building somewhere in the heart of a town or a city. In fact I already have the spot all picked out in downtown San Luis Obispo. It's a corrugated metal building with a nice big outdoor gravel yard right next to it. But sometimes I fantasize about venues in the grittier parts of LA where a place could be a safe haven for at risk youth as well as a creative outlet. It needs to be where there's good foot traffic, so young people and older folks can walk by and see things going on inside that piques their curiosity and draws them in. And if you were driving by at night you could see lights on and people talking and laughing and banging on metal and cutting up wood and splashing paint and messing with clay. I'd call it "The Shop."
What I envision is a bit different from taking an art class at a community center or community college or night school. This is curiosity driven, exploratory stuff where there isn't a set curriculum, remember I'm talking about play here. Instead of swings and slides and merry-go-rounds or what today are call "play structures" ) this playground has a metal shop and a wood shop and a gadget/gizmo shop. It's a playground for people who are too big for kid playgrounds but with the same mind set. You show up, you see things to play on or with, you watch what others are doing and you figure it out or someone helps you figure out what you don't already know.
And it's not a live/work space like the Salz Tannery in Santa Cruz, The WAV in Ventura, Beacon Arts and The Brewery in LA or any number of other studio plus living communities. This place doesn't require a long term commitment and isn't solely for practicing artists. This is for the intimidated, the uninitiated, and those who have never been in an art studio, wood or metal shop. Maybe you're curious about metal or wood work but don't have the money or a semester's worth of time to devote to a community college class. Or say you bring in something metal but you don't know how to weld. People can bring in stuff they have but they don't have the tools to work on it or put it together or don't have the expertise. This place would rely on skilled and talented artists, crafts people and trades people to help others with a project. Maybe project is too big of a word, it's people helping people with an exploration. Those who know how are technical advisors, not teaching a curriculum with set projects but sharing their know how. The people who drop in will get trained on equipment, tools, shop safety, rules and etiquette. A whole new meaning to the term "Open Studio." The idea is more open, to bring in a project or to figure out a project. Or maybe it's a community art center and on certain days or afternoons it's "Open Shop." If the drop-in clients can't pay, or even if they can pay, they can help out in the shop and in the store that sells items made in the shop. There could be a gallery and store on the premises to exhibit and sell the things the people made in the shop.
There is an intriguing place that is sort of like the fantasy spot that's called The Steel Yard in Providence, Rhode Island. Oddly enough I first read about it in the magazine Landscape Architecture.
It's not only a terrific looking community but it's a really inspiring story of reclaiming an old factory and building an exciting community.
Despite the recurring nature of this fantasy why is it still just a fantasy? Well, mostly because like all of you we already have enough on our hands. We don't have unlimited time (not to mention financial resources) and all I can do is add it to a list of other interesting ideas that have come up. Michael and I had another dream that came before this one and we're trying our darnedest to stay focused on that, on Windhook and on 
Outside the Lines so that's priority #1. We often talk about things that would be wonderful to do and ideas like this will come up and we have to see where it all fits. It's not unlike trying to live on a budget or within your means. In this case it's about conserving time and energy for things that really matter to us while taking care of the stuff you have to do.
Last week I had to help Michael come to the realization that he didn't have the time or energy to take on yet another "project." He saw an on-line ad for a free "cockerel" or a young male chicken. But bringing a cockerel home to our bunch of 15-week old hens is not without complications. Because this cockerel wasn't raised from a chick with our hens, he is not a part of their flock. Though male, he's younger than our hens and he'd probably have a hard time establishing his place in the pecking order. In fact, it's quite possible they could have literally pecked him to death. So, if Michael were to have gotten this cockerel he would have to build him temporary quarters separate from the hens . It would have required monitoring over an extended period of time to get the hens, one by one, gradually acquainted with the new guy in town. I thought this all sounded like a lot of Michael's time and energy and focus that he doesn't have a lot of extra of that to spare.
My work at RRM is getting busy again (hurray!) and as always life is busy with a lot more events coming up in the months ahead. Michael has work to do for the November Central Coast Sculptors' Group Show at SLOMA in November.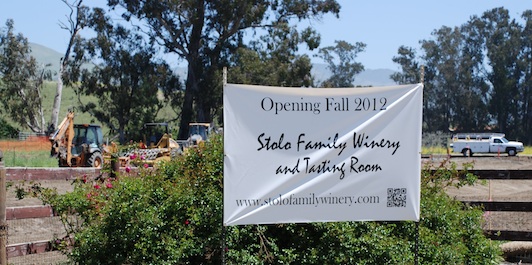 Our neighbors down the road are building their new winery and hope to open their tasting room this September. Stolo Family Vineyard owner, Charlene Stolo, has specifically designed niches for art work in her new tasting room and she fully expects to be able to display some of Michael's work there this Fall. It's been a long haul for Charlene and her husband Don to get to the point of building the winery so it's exciting to see their dream coming to fruition—it's a beautiful building and wonderful to see the construction proceeding so swiftly, niches and all.
But urban redevelopment projects are just not in the cards for us right now. Remember Michael's story a few months ago about keeping your eye on the marshmallow? Well neither "The Shop" nor the downtown arts district are marshmallows for us at this point in our lives. That's not to say they couldn't be at some future point in time. But they come after Windhook and Outside the Lines. And that's something we constantly have to remind ourselves about. We have to ask ourselves is this a "right now" or is it something that could always come later? And I think it was the late Stephen Covey who said something like "A vision without a plan is just a dream." I don't have the mental capacity at the moment to even think about a plan for "The Shop." Thinking about the realities of a site, a building, renovation, permits, business licenses, a board of directors, a manager/director, etc., etc, just makes my head hurt. So for now the idea of the "The Shop" will remain just a fantasy.
And so will Michael's idea for establishing an arts district in Paso Robles or San Luis Obispo. And wouldn't "The Shop" be a great part of such a district? But it too would require lengthy and complicated planning, City approvals, funding, building, and setting up operation. And just how do you fund a place like "The Shop?" I suppose you could try Kickstarter or Indie a Go Go or find Angel investors and the like. But Michael and I have yet to figure out the answer to that question for our #1 Priority, Windhook. We've been through the approval processes and started building, we just ran out of money to finish construction. But we haven't found the answer to funding the rest of it, whether we have memberships or investor partners or combinations of that and other funding mechanisms. We haven't devoted the time to explore Kickstarter or other vehicles in any significant way though there don't appear to be many Kickstarter projects to building new buildings. If you do you know someone who has successfully funded a Kickstarter-like project be sure to let us know so we can spread the word.
Outside the Lines is the companion piece to Windhook. Windhook and Outside the Lines are driven by the same core mission. When construction stalled on Windhook, Outside the Lines became one of our primary outlets for connecting with others who are finding their paths and inspiring folks to follow their hearts by introducing them to people who are living their dreams. Friends retire, go through major life changes like illness, divorce or loss of a loved one and I can be a total pest asking them to give some time to carefully consider what it is they really want to do. I pepper them with age old questions like, "What have you always wanted to do or try but haven't?" Or, "What kinds of things make you happy and energized?" Sometimes it's takes a life changing event to think about and focus on the stuff that really matters to us. But I think most of us don't want to get to the end of the line without having done the things that matter to us.
I read obituaries all the time, obituaries about people I don't even know. I think it's because I like to read about people, even strangers even who have lived fulfilling lives who been able to pursue their heart whether that be as parent, grandparent, artist, a baker, a farmer, a rancher, an accountant, a writer, a sailor, a teacher or a musician. My sister Ann always used to say "Life is too short to not do what you really want to do." She died when she was only 42. When she was in her 30s she was diagnosed with a rare disease, primary pulmonary hypertension, that damaged both her heart and her lungs. When she was 36 she was fortunate enough to have a heart/double-lung transplant at Stanford University Medical Center. After her transplant she travelled to Japan and Europe, took piano, horseback riding, and golf lessons, and was a super Auntie to my daughter. She always said those 6 years were a "gift." Her life and death taught me two things.
The first one is that Annie didn't have a healthy body but I generally do, so I really should keep my body healthy. But I am a slug and don't exercise and I eat red meat and pastries and other yummy things. The second is the thing about life being too short. Sometimes I get busy, and overwhelmed and I forget about that one. But that was her gift to me and when I do remember it, it's the one thing that makes those marshmallows look really big,—as big as the Staypuft Marshmallow Man.