<!———**************———> <!———**************———> <!———**************———> <!———**************———> <!———**************———> <!———**************———>
Five Sundays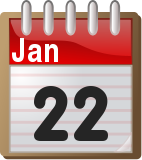 January is one of three months in 2012 that has five Sundays. That means you get a bonus this month. Peggy's Progress usually comes on the fourth Sunday, but this month it will come a week later. In the mean time, here's your January bonus installment.
The Phantom!—Part Two
A month ago, we told you about the Phantom Project, a local art project that we are involved in. You can read The Phantom!—Part One here.
Since we wrote part one in mid-December, the Phantom Project has continued planning and publicity work for the show. We have used our Facebook presence, along with the usual communications channels of our local artists' groups, the San Luis Obispo Museum of Art(SLOMA), and several other local art organizations including Arts Obispo (the official sponsor of Art After Dark) and the Paso Robles Art Association to keep the show in front of our local art community. The buzz has begun and everyone we talk to now knows about the show. The fact that we are taking applications and taking in art only a week before the opening means that we have no clear idea how big the response will be until the artists show up at the door on intake day. But every indication is that we will get a good response.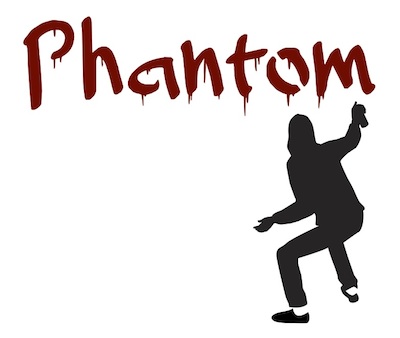 This in spite of the fact that the concept for the show had not even seen the light of day three months ago. Art shows typically have a longer lead time than this to make it easier to get publicity, to get on the schedule of the gallery, and to give the artists time to prepare new work. Because we are using vacant retail space, and not requiring the artists to present new work in this show, we have overcome two of the three reasons that a show usually cannot happen this fast. And we are using the internet and our own enthusiastic energy to get the word out quickly.
We have designed a logo with a street art stencil motif in keeping with the guerilla mentality of the Phantom Project, and are cutting stencils to paint it on the windows and a wall of the gallery space. We designed it so it would work on future events as well, and we are looking into getting logo tee-shirts made to sell at the show.
As I said last month, we started out with 6 members of the phantom project team. Since that time we have had several others step in, sensing the energy that's building around the project. We expected this, and welcome any latecomers that want to get on board. Each member of the team has a sense of being involved in something that has legs beyond just putting on a single art show. We are calling it "the Phantom Project" rather than "the Phantom Gallery" or "the Phantom Show" for a very specific reason. We expect to do more. At this point the project is putting on a show in vacant retail. That was our original idea. But we might do other things that are spontaneous and innovative, and we want our brand to be flexible enough to embrace new ideas. We are beginning to think about what could be down the line after this show.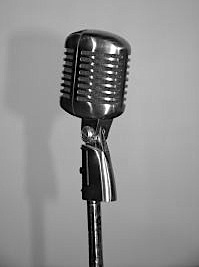 There is a local twice monthly radio show called Ears on Art produced by Steven deLuque, a local artist, jeweler, and one of our jurors, and Crissa Hewett, a local artist, widely acclaimed silversmith, and president of the Central Coast Crafters group affiliated with SLOMA. They are providing us with public service announcements of the show. We wanted an interview, but could not break into their schedule on such short notice. So we are planning to do an interview in the aftermath of the show instead. This actually works out better, because we can tell the story of the show, and prime the pump for the next event. This is a wonderful example of the kind of publicity that serves not only the project, but the creative minds who conceived and executed it successfully.
Are you beginning to see how a project of this kind can propel your own professional standing in your creative community? Once you carve out a niche for your own innovation to be noticed, it gets easier to get noticed. This seems like an oxymoron, but it's not really. We tend to get in ruts, doing things the way they have always been done. Yes, even artists have this tendency. We tend to think, rightfully perhaps, that our work is innovative and fresh, and should spontaneously capture the imagination of our public. But while this happens occasionally, it's not the norm. The art viewing and buying public generally needs a little help seeing the value in work they are unfamiliar with, or trusting an artist they have not heard of. The value of participation in, and especially leadership of a project like the Phantom Project is that it gives your public just that boost they need to take notice of you. Next time they see your name they will think, "Oh yeah, he's one of those Phantom guys." Now they have a strong reference point for you and your work. Suddenly you are significant.
"But I'm not a visual artist," you protest! "I write poetry," or "I'm a musician. How is this relevant to me?" Well, I'm glad you asked that question. The Phantom Project is an illustration of a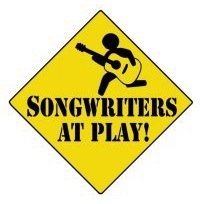 bigger concept than merely showing visual art. We know a local sculptor and poet, Ellyn Winslow, who brought the Favorite Poems Project to San Luis Obispo. The late Steve See from Cambria was instrumental in producing local house concerts with musicians from all over the world until his untimely death a couple of years ago. More currently, Steve Key produces a very active and well attended series of musical events in local coffee shops, wineries and other venues called Songwriters at Play to provide opportunities for local musicians to be heard. Ideas such as these embody precisely the kind of creativity and energy that we are talking about with the Phantom Project. In fact, events of these kinds have inspired the Phantom Project from the outset.
By now you get that we are talking about this project not to promote the project itself, but to illustrate two points that matter to you as your own best publicist and promoter. First, how taking on a project bigger than your own personal art can enhance your standing in your broader creative community. This opens doors. It gives your peers and your followers and your future followers and the press more reason to take you seriously. It increases your name recognition. One of the most important lessons we can ever learn is that one of the best ways to promote our own work is to be impossible to ignore. Make a splash. Collaborate with others and share the credit. Generosity with your resources, your ideas, and your time will go a long way toward putting you on the map. To illustrate this point, here is a quote, edited for privacy, from a note that was sent to the members of the Phantom Project team from a SLOMA board member. The note was sent to inform us of the energy and excitement that the Phantom Project has been generating at the museum. This is especially significant, since the museum staff and board didn't know several of us by name a year ago.
"You all need to know that...there is mucho enthusiasm about the possibilities of this for SLOMA...You are doing ground-breaking work by putting on this show. KUDOS to the people who have made this happen. You are recognized and backed by SLOMA as well as by our own group. Your names are being circulated as movers and shakers. Great Work."
The second point illustrated by the Phantom Project is that you can create a venue for your own work. We started this project because we felt that there were not enough outlets to display the efforts of artists in our area. Rather than whining about it, we got up, banded together and created an opportunity for ourselves and for others. This might take some groundwork to get going. I started by joining the Central Coast Sculptors Group. I worked for 2 years as a volunteer and committee member on other projects before I became president of the group and began talking about the Phantom Project idea. It didn't happen over night, but it is definitely happening, and definitely worth the time and effort.

After the Phantom Project show is up, we will report again to share further insights and ideas that have grown out of this ongoing project. In the meantime, how can you leverage these ideas and principles to your own creative community? You can feel free to use any of the ideas in the Phantom Project, including the name, as you carve out your own niche in your town. And if you are in SLO county, we would love to have you step in and join us on the Phantom Project team. There's lots of work to do, and OTL subscribers are just the kind of creative minds we need to keep this project growing and vital.

<!———**************———> <!———**************———> <!———**************———> <!———**************———> <!———**************———> <!———**************———>