<!———**************———> <!———**************———> <!———**************———> <!———**************———> <!———**************———> <!———**************———>
The Phantom!—Part One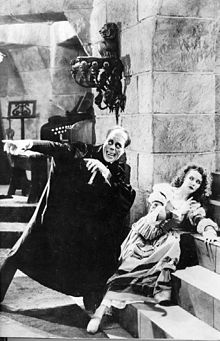 Let's talk about exposure. Your exposure. There's no better way to get exposure than to do something that's hard to ignore and highly visible to your entire local community. What follows is a story in progress about a small group of artists who are doing just that. It's called "the phantom project", and it's happening right now as I write this in San Luis Obispo, California. I will tell the story in first person, because I'm the original instigator, and lead the team that's doing it. As I tell this story, I want you to think about the principles of innovation and creativity involved more than about the actual details.
This is not the story of Erik, The Phantom (Lon Chaney) and Christine Daaé (Mary Philbin) in the image to the right. The phantom project is conceptually simple: an art show pops up on short notice in vacant retail space, runs about a month, then vanishes as quickly as it sprung up. Then it happens again, and again... The location is never known more than a month or two in advance because of the nature of real estate vacancy. Over time, the local art community grows familiar with the concept and embraces it. That's the idea anyway, and I'll bring you along for the ride as we see how it unfolds. So here's part one.
The idea seemed a bit scattered and disjointed at first. Several of the artists we talked to early on were skeptical. It would be too much work. How would we find spaces to show in? What about the cost of setting everything up, and of publicity? What if there weren't enough volunteers to do it? How would we get the support we need from the local art associations? What if nobody showed up?
We decided to prove the skeptics wrong first, then invite them to join us later. As we talked to each other and the players in our community that would have to get behind the phantom concept, we were surprised and inspired. We talked to the director of the San Luis Obispo Museum of Art, of which we are affiliated artist members, and got the green light to use their publicity, insurance riders, and organizational structures as an umbrella for the show. It was made clear that we would be on the hook to do the heavy lifting, but as members we would have their support. Fair enough!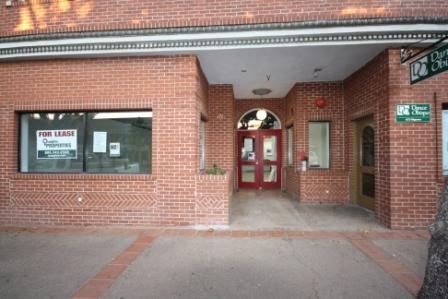 Next we walked around downtown looking at the abundance of vacant retail space that has been left to languish in the wake of the economic downturn. We took down the names of the property managers on the "For Lease" signs, and happened to find one of these property managers actually at the property when we walked up. We explained our project to him briefly, and his eyes lit up. We have since met with him at his office and now have keys to the space and a firm commitment for a show in February! We were initially concerned that a renter might force us out of our space at the last minute, but he explained that with our rapid time frame that could not happen. Retail businesses typically make improvements to a leased space to make it work for their business, and such improvements must pass the building and planning department's permit process first. That takes several months, so we are safe.
As you can see, the key so far has been to ask for the help we need, without making any assumptions about what's possible. We now have the support of the local art museum and a local property management company.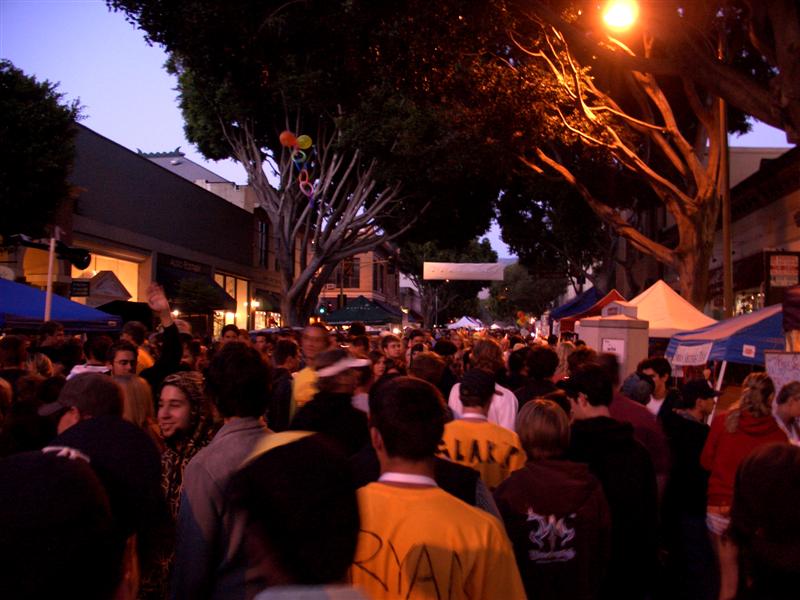 We have a great space in the heart of downtown. Every Thursday evening one of the largest farmer's markets in California goes on in the street in front of our space. The street is blocked off for pedestrian use, there's live music, craft and food booths, and the street is packed with people. Our location couldn't be better. Add to this that on the first Friday each month is the local art walk called "Art After Dark" and our space is right in the heart of the art scene. Once again, we are positioned for optimal traffic.
Now the real work begins. It's mid-December and by the end of the week we'll send out the call for entries and announce a brand new show that starts the beginning of February! There are 6 of us on our team. Several of us were recently on a team that put together a state-wide show that took 18 months to do. Are we crazy???
The show will be open to artists in all media, and we'll take in art, jury the show from the actual work rather than from photos, and have the unselected work taken back all in one day. Then we'll set up the show, using clamp-on lighting hung in the rafters, pedestals loaned by the museum, and volunteers from our organization. we'll send art buyers just around the corner to the museum to pay for purchases, and we'll require selected artists to sit for a single 4 hour session in the gallery to help with the people power we need to supervise the show in progress.
Our first three choices for jurors confirmed enthusiastically when we asked them to volunteer their services: a well known local artist, an art writer from one of the local papers, and the retired director of the local community college gallery.
The story is ongoing, and I will bring you another installment as it unfolds. But you might be wondering why I opened with the comment that we were going to talk about your exposure. What does the phantom project have to do with you?
I'm not necessarily suggesting that you take on a phantom project of your own. If you want to, go for it. We thought of it ourselves, but have since discovered that it's already happening in cities like LA and Seattle. I am suggesting that you think for a moment about what you're doing to get on your own local map. It's universally true that becoming involved in a project bigger than yourself, bigger than your own private goals, can enlarge the scope of your influence, and enhance your image in the community of your peers. Doing phenomenal art, and lots of it, is really important. But it isn't the whole picture. The people you need to notice you are more likely to do so if you put yourself directly in their path in positive and innovative ways that are hard to ignore.
The phantom project is a good example. How good is yet to be seen, but it's off to a great start! You might not have the time or the inclination to start off with something this ambitious. So start by joining your local art association or artists' support group. Find out what kinds of events they do. Participate actively. If your group sponsors visits to local artists' studios, offer yours for an event. If they hold workshops or demos of various techniques, get on the list to present. If there's a committee that organizes shows or other activities, participate. If you have a crazy half baked idea like the phantom project, find some other crazy half baked peers to get excited with you and make it happen! Shake things up. And by all means, step outside the lines!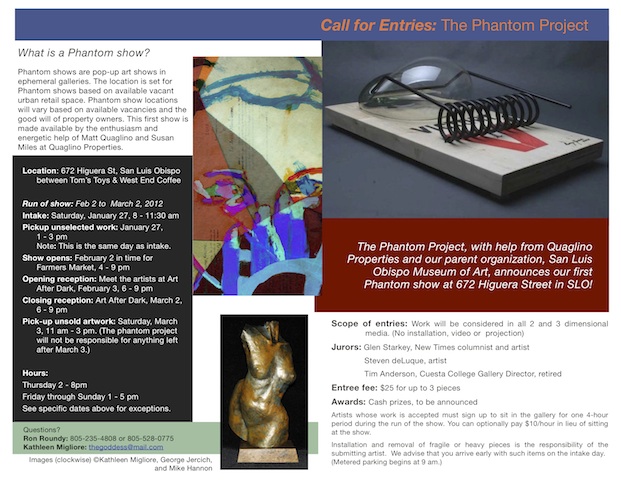 <!———**************———> <!———**************———> <!———**************———> <!———**************———> <!———**************———> <!———**************———>